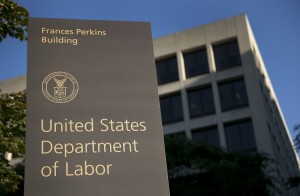 The Labor Department's monthly report has revealed a marked slowdown in hiring for the month of March and a weakening job market. According to the report, only 126,000 jobs were added to the labor market in March. This was considerably lower than the labor market's previous yearlong streak of robust monthly job creation in which job gains averaged roughly 269,000 every month. However, many analysts expect the economy to regain some of its previous momentum later on in the year.
In the Bureau of Labor Statistics report, released on Friday, previous labor market estimates for February and January were revised, removing 69,000 jobs from the total for the first quarter. The labor participation rate decreased 0.1 percent in March, falling to 62.7 percent from 62.8 percent reported in February. The unemployment rate remained at 5.5 percent and wages increased 0.3 percent for private-sector workers. Hiring in sectors like construction and government remained roughly the same.
A number of analysts have blamed the severe winter weather for the overall slowdown in March. Decreasing oil prices were also blamed for putting the brakes on investment in the energy industry. The American energy industry has been adjusting very quickly to low oil prices, halting projects and shedding jobs at an accelerated pace. However, the average consumer is saving a substantial amount of money in lower gasoline prices, allowing them to spend more in other sectors of the economy.
The labor market slowdown is expected to strengthen the view at the Federal Reserve that interest rates should stay near zero for the short term due to the economy possibly not having enough strength to stand on its own. Janet L. Yellen, the Federal Reserve chairwoman, cautiously spoke of her assessment of the economy at a conference held in San Francisco last week. Under her plan, the Fed would slowly raise interest rates and began the process of lifting short-term borrowing costs from the extremely low level they have hovered at since the financial crisis that began in 2008.