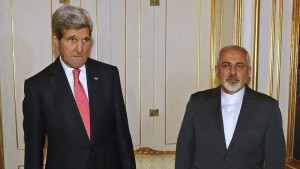 On Thursday, the United States and Iran reported that a historic framework agreement to limit Iran's nuclear program had been reached. Many Iranians reacted happily to the news of an agreement being reached on the framework of the plan. Whether the framework will result in a successful deal on Iran's nuclear activities may not be known for months or years, but according to reports, all parties involved are optimistic about the deals' chances of success.
The nuclear talks between Iran and five major world powers started back in 2013. Iranian Foreign Minister Mohammad Javad Zarif, the country's top nuclear negotiator and Secretary of State John F. Kerry kicked off the process on Sept. 26, 2013, exchanging awkward greetings at a U.N. conference in New York and steeling themselves for the long process ahead. The exchange was the highest-level diplomatic exchange between an Iranian and a U.S. official in decades.
The talks represent a milestone achievement and the start of a new chapter in Iran's post-revolutionary relations with the rest of the world. The process of reaching the agreement included numerous phone calls, hours of direct negotiations, and the disclosure of multiple secret conversations about the impending deal.
The United States and Iran have been bitter foes for almost four decades. A decade ago, Iranians were being sentenced to prison terms for advocating for direct engagement with the United States, a country that Iranian leaders have long derided as the "Great Satan." Three years ago, the country was firing at U.S. surveillance drones flying over international waters in the Persian Gulf.
While an agreement has been reached, statements made by U.S. and Iranian officials show that normalizing relations between the two countries are nowhere close, as they remain sharply at odds on a host of issues. When announcing the agreement, President Obama acknowledged that the progress on the talks "will not end the deep divisions and mistrust between our two countries." Iran's security establishment and many of its leading clerics remain vehemently anti-American and that probably will not chance anytime in the near future.