Mississippi – A freshman identify as Fhu-Qui Cong Nguyen from Mississippi State University made threats about killing himself and others and instantly caused a campus lockdown this Thursday. Though the suspect had no weapons he remains in custody. The University alert system said on their latest news "Suspected shooter in custody. Seek safety until further notice."
One shooting is a tragedy
Fortunately today's situation was treated quickly and until now no injuries were reported or shots being fire. The alert began around 11:20 when the University alarm system announced by a tweet an active shooter was reported at Carpenter hall, telling students to immediately seek safety shelter. By 11:40 Fhu-Qui was already in custody at the Oktibbeha County Jail, regular operations in the campus were scheduled to resume at 2:00pm if everything remains stable.
Richard Corey, who works for the university's engineering school commented about the situation "It was very tense, everyone was very nervous. It was difficult to accept the reality that this was happening in front of us."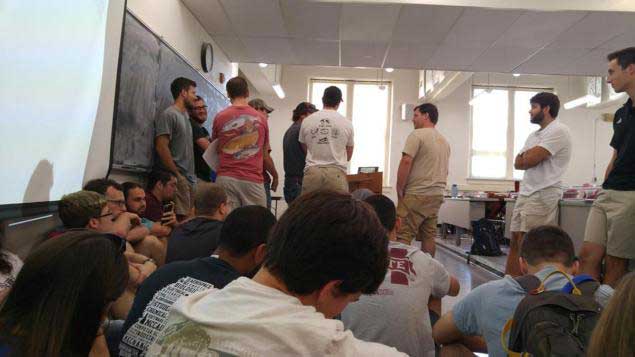 249 shootings are statistics
Despite being known as the "land of opportunities" United States is also known for its gun issue. When it comes to sociopaths the situation must be treated very carefully since threats can't be ignored due to past events. According to shootingtracker.com there have been 249 mass shooting so far this year in the country, that's more than one shooting per day, it's an alarming figure since the website define a mass shooting a situation in which four or more people are shot, it's scary to do the math.
Some politicians have spoken about this worrying situation, although it wasn't about today's event Hillary Clinton spoke after yesterday's shooting in Virginia "We have got to do something about gun violence in America, and I will take it on." she said. "There's so much evidence that if guns were not so readily available, if there were universal background checks, that maybe we could prevent this kind of carnage."
Also some researchers say the country has 31 percent of the world's mass shooters, adding the reason for these numbers can be related to the availability of guns in the country and perhaps the American obsession with fame. "United States has more private gun ownership and more desire for fame than any other country in the world" said Adam Lankford, criminal justice professor and lead author of the research 5 Milestones in Gun Control History.
MSU Students Reaction
He was in my building. pic.twitter.com/SSCoilRI6B

— Trevor Pounds (@trevorLBS) August 27, 2015
Currently on campus #MSU pic.twitter.com/9S5x1R1fAd

— Tyler S. Brain (@Tyler_Brain) August 27, 2015
Source: Mississippi State University