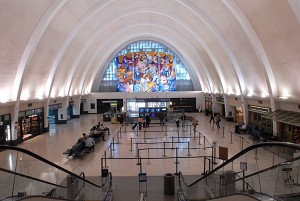 On Friday night, the Louis Armstrong International Airport in New Orleans was the scene of a terrifying attack that ended with several people injured and the attacker shot. During the attack, the attacker, armed with a machete and cans of wasp spray, targeted Transportation Security Administration workers stationed on the security line and passengers waiting to pass through the line. Police on the scene quickly fired shots to subdue the attacker. Bystanders caught in the chaos fled the violence, ducking for cover as they ran away from the rampage.
According to reports, Richard White, 62, arrived at the airport Friday night and attacked agents and passengers standing at an airport security checkpoint with a spray can of wasp killer. As the attack progressed, he pulled a large machete from the waistband of his pants and began swinging it the agents at the checkpoint. A male agent was attacked and was able to fend off the machete with a piece of luggage. White then turned his attention to a female TSA agent, chasing her through a metal detector with the weapon in hand.
Jefferson Parish Sheriff's Deputy Lt. Heather Slyve drew her weapon and as White continued to advance and swing the machete, she fired three rounds, striking him in the leg, chest and face. A TSA agent running from White was struck in the arm by a bullet but the injury was not life threatening. Witnesses described seeing others getting down to the ground and trying to hide under chairs. According to reports from officials, White was taken into surgery at a hospital overnight and is 'unresponsive.'
Investigators were investigating why White was at the airport, as it did not appear that he ever intended to get on a plane. White lives about two miles from the airport in nearby Kenner, La. A neighbor reported that that White was a retired Army serviceman living off Social Security and disability checks. He was also a deeply religious Jehovah's Witness. According to police records, White had been arrested several times before for minor violations, but nothing in his record offered any information on why he went on a rampage Friday night.