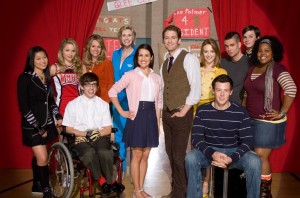 The Glee two-hour series finale concluded the show's six-season run on Friday night and included a touching tribute to the late Corey Monteith, who tragically died while employed as an actor on the show. The tribute sought to showcase the happiness of his life instead of focusing on the sadness of his death. Included in the finale was the original footage of the actor's most memorable performance, Don't Stop Believin' from the pilot episode of the show. It may have been the most emotional moment of the episode.
The finale show marked the end of an era for the popular show that tackled many issues of the day, including teen pregnancy, sexuality, suicide, bullying and the transition of a transgender character. The show was set at fictitious McKinley High, a setting perfect for stories about dreams, growing up, perseverance, and self-acceptance. The show also launched new stars Lea Michele and Corey Monteith as well as providing considerable exposure to veterans like Matthew Morrison and Jane Lynch along with many celebrities who made guest appearances.
As well as giving Glee fans chance to say goodbye to their favorite characters, the finale also offered a final farewell to Cory Monteith, who played Finn Hudson on the show. In July 2013, Monteith tragically died from an alcohol and drug overdose at the age of 31. Off-camera, the star had struggled with substance abuse problems for some time before his death. Shortly after his death, his character Finn also passed away on the show with little explanation. In the finale, it was shown that the fabled high school auditorium where Glee took place would be renamed for Finn Hudson in 2020.
Glee made its mark as one of the most successful shows on television to blend episodic narrative with musical production numbers. The show helped increase interest in glee clubs and promoted the importance of arts programs in schools. The show was responsible for sales of more than 50 million songs and 13 million albums under the Glee banner. The finale was aired as a two-part conclusion that included a flashback section entitled "2009" and a section that looked towards the future of the cast titled "Dreams Come True."