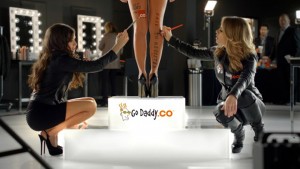 Website hosting service GoDaddy announced that the company had raised $460 million through an initial public offering Tuesday night. While the IPO was expected to be priced range of $17 to $19, GoDaddy priced its 23 million shares of common stock at $20 a share. The stock will start trading on the New York Stock Exchange under the ticker symbol "GDDY" on Wednesday morning, according to filings made to the Securities and Exchange Commission (SEC).
Due to the results of the IPO, GoDaddy is now valued at about $3 billion, even though the company has been unable to generate a profit since 2009. GoDaddy posted a loss of $143 million last year and has lost $622 million over the past three years. GoDaddy also carries lots of debt, most of it related to a 2011 leveraged buyout by private-equity firms. As of May 2014, the company had piled up $1.5 billion in debt. Even though the company posted a loss last year, GoDaddy managed to grow its free cash flow from operations by a considerable 18 percent, with its free cash flow rising to $181 million.
Despite the risks, there is clearly demand from investors to invest in GoDaddy stock. Founded 18 years ago, GoDaddy is well known for its racy Super Bowl ads and sponsorship of NASCAR star Danica Patrick. Wall Street is hoping GoDaddy will wake up the IPO market, which has been sleepy over the last quarter. The $5.4 billion raised during the quarter was the lowest amount in more than three years. The domain hosting company tried to go public once before in 2006, but pulled back citing unfavorable market conditions.
Rapid Ratings, a firm that rates the financial health of public and private companies, gives GoDaddy a financial health rating of just 24 out of 100, indicating an "elevated" risk of default. James Gellert, CEO of Rapid Ratings, said, "I would say the caution flag is up." However, Kathy Smith, a principal at Renaissance Capital, a manager of IPO-focused exchange-traded funds, said investors would do well to focus on the company's strong free cash flow and recurring revenue stream, rather than dwell on the red ink the company has created over the past several years.