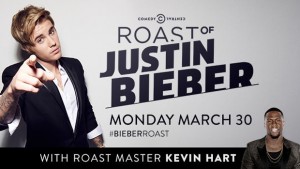 The Comedy Central Roast of Justin Bieber has finally aired after months of anticipation. For many, the event did not disappoint. Monday night's two-hour roast, hosted by comedian Kevin Hart, provided viewers with the Bieber walloping they were looking for. Even Will Ferrell's character in "Anchorman," Ron Burgundy, showed up to say his piece.
The participants roasted Bieber mercilessly, touching on every negative thing written about him in the news over the past few years. The roasters spoke on everything from Bieber abandoning his monkey in Germany to accusations of Bieber assaulting a 12-year-old at a laser tag arena to his charges for throwing eggs at a neighbor's mansion.
One of the best bits of the roast had to be when Martha Stewart gave Bieber tips on how to survive in prison. Rapper Snoop Dogg was also a roaster at the event. The chemistry that occurred between Snoop and Hart during his set was magical, with the two playing off of each other in ways that had the audience roaring with laughter. Shaquille O'Neal was another surprisingly funny roaster at the event and took the jabs at his size and at his basketball career with good humor.
Some of the night's funniest jokes weren't about Bieber at all. During the roast, the worst possible things imaginable were said about nearly everyone on the dais. Jokes about roaster Hannibal Buress mainly focused on his notoriety as the person who sparked the current controversy surrounding Bill Cosby, who has faced a number of rape allegations after Buress remarked the Cosby was a rapist in one of his stand-up comedy sets. Jeff Ross joked, "Bill Cosby wanted to be here tonight, but he couldn't because you ruined his life."
Many of the jokes about roast master Hart related to his small stature and his current popularity as a comedian. Snoop Dogg may have summed it up the best with his comments: "Now back to mini-me, and that's Kevin. When it comes to your movie career you never say the N-word, and that's 'no." Martha Stewart also joked, "Thank you, Kevin Hart. It's great to be here. Sitting and listening to all your jokes for the past hour is the hardest time I've ever done."