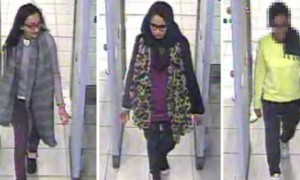 A spy working for one of the U.S.-led coalition countries that are currently battling the Islamic State helped three girls from Britain cross the border from Turkey into Syria to join the IS militants. The spy has been caught announced the foreign minister of Turkey on Thursday.
Mevlut Cavusoglu the minister said the spy was caught and turned out he was working intelligence for a coalition country.
He did not say the name of the country the spy worked for, but did say it was not the United States or the European Union. The coalition includes other countries as well such as Qatar, Saudi Arabia, Jordan, Australia, Canada and Bahrain.
A security source who is familiar with this case and from Europe, said that the person in question was connected with the CSIS or the spy agency in Canada.
A source in the government of Canadian in Ottawa said this person was not a citizen of Canada and was not employed by CSIS. However, the source would not answer when asked if the person had at one time worked for CSIS.
The Canadian spy agency would not reply to requests for comments.
An official in Turkey, who declined to be identified, said the spy was in custody. The Turkish official said the person in question had worked for the intelligence agency of a country with the coalition, but was not Turkish either.
The IS has seized large section of both Syria and Iraq, including territory near the border with Turkey. The coalition led by the U.S. is using almost all air power as it attempts to push the militant group back.
The families of each girl and police in Britain have issued a number of appeals for the safe return of their daughters after the three flew to Istanbul on February 17 from London. Thousands of people from over 80 countries have joined the Islamic State ranks including people from the U.S., Britain, and China.