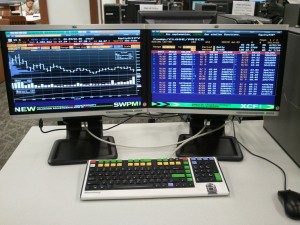 Bloomberg terminals went down Friday morning, disrupting financial transactions globally, according to a report by CNBC. The black out of Bloomberg's terminals began after 3:00 a.m. ET and lasted for more than four hours. Bloomberg is reporting that the incident was not the result of a cyberattack on its systems. The reason for the outage remains unknown, but Bloomberg has said that it is investigating.
The data analysis and market news portals, called Bloomberg Professional, has more than 320,000 subscribers. Traders use the specialized computers for day-to-day financial transactions. Traders can execute trades using the terminal, along with using them to monitor and analyze financial data in real time. Bloomberg LP, the company that sells the terminals, makes the overwhelming majority of its money on the machines.
As the terminals went down, Twitter lit up with complaints from inconvenienced traders. One trader who wished to remain anonymous told the New York Times that operations ground to halt at his workplace after the terminal they used went dark for roughly 90 minutes. United Kingdom's Debt Management office delayed the sale of more than $4.5 billion in treasury notes because of the issue.
Some traders reported that they had switched to a Reuters platform for transactions during the Bloomberg outage. However, for many traders, switching over to a terminal run by one of Bloomberg's competitors was not a good option because they are unfamiliar with the way the other terminals operate. Other traders resorted to making their trades by phone like they used to do in decades past.
The outage apparently stretched from London to Hong Kong, with bankers and traders in Europe and Asia unable to access the market data, news, and chat service they were used to using in the course of their daily business. Bloomberg has released a statement saying that the service had been fully restored and that there was "no indication at this point that this is anything other than an internal network issue." The statement also said, "We are reviewing our multiple redundant systems, which failed to prevent this disruption."