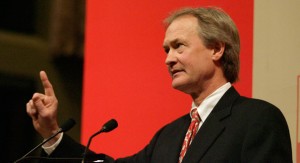 Former Rhode Island Gov. Lincoln Chafee has tentatively announced that he will be seeking the Democratic nomination for president. Chafee was speaking with CNN's John Berman on "New Day" about not having formally declared his presidential campaign and his criticism of Democratic front-runner Hillary Clinton when he made the announcement.
When asked about his criticism of Clinton during the interview, Chafee said, "Yes, that's why I'm running. Because I feel strong about where we're going as a country." Chafee also said in a CNN interview with Dana Bash over the weekend, "I want to be on the stage in November, December and January debating these issues."
Chaffee has been striding the line between considering whether to run and actually running since last week. Last week, Chaffee announced the formation of an exploratory committee for a potential 2016 campaign.
However, Chafee spokeswoman Debbie Rich has claimed that these latest statements are not to be seen as a declaration that Chafee will be a candidate for president, despite saying "that's why I'm running" in the interview. In a phone interview with CNN, she stated, "We will file the proper papers to be an official candidate, but that has not happened yet."
Chafee's gubernatorial term ended at the beginning of 2015 and he has been out of office since. He is also a former U.S. senator and an ex-Republican.
Chafee has been highly critical of Clinton lately in his comments. In fact, he has seemed more critical than other would-be challengers, including former Maryland Gov. Martin O'Malley and former Virginia Sen. Jim Webb.
Chaffee has repeatedly hammered at Clinton over her vote to authorize the war in Iraq while she served in the Senate, differentiating himself from fellow Democratic primary contenders. He claims that the vote demonstrated a lack of judgement on her part.
In comments made over the weekend on CNN's "State of the Union," Chaffee commented, "That was a moment where the premise for going to Iraq was so false that there were weapons of mass destruction; she didn't do her homework. We live with the ramifications." He continued, "You may say that's 12 years ago, that's a big motivator for me running. If you show a lack of judgment, lack of doing homework then, what can we expect in the future?"