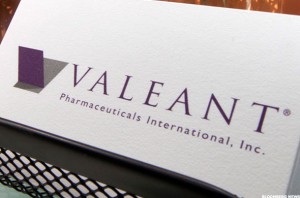 Canadian based Valeant Pharmaceuticals International sweetened its offer on Monday to acquire Salix Pharmaceuticals based in North Carolina, boosting the offer to $173 a share of which all is cash making the deal worth $11 billion.
The amended deal successfully knocked out the unsolicited rival bid last week for Salix from Endo a healthcare company based in Ireland. Endo withdrew its $11.2 billion stock and cash offer.
Shares of Salix were up 2% during afternoon trading on Monday following the release of information about the new deal. Valeant shares moved higher by 2.26%, while shares of Endo increased as well by 2.9%.
Salix has come under much attention from suitors due to the company featuring an array of different gastrointestinal illness treatments as well as procedures. Its lineup of products includes Pepcid a short-term treatment for duodenal ulcers that are active.
Valeant's new offer on Monday would provide approximately $1 billion more in cash to shareholders of Salix than its initial bid. The new higher transaction represents an increase of 8.5% over its $158 a share price offer that was reached back in February.
If the minimum amount of investors of Salix tender their shares prior to March 31, Valeant said the deal should close on April 1. If the tender conditions have not been reached before April 8, the offer price reverts back to the original $158 a share price.
In return for a higher price, Salix has agreed to boost its breakup fee by $100 million. If it were not to close the deal to Valeant it would have to pay an estimated $450 million.
The rival bidding to acquire Salix is the latest development in a number of multi-billion dollar proposals for acquisition in the sector of pharmaceuticals during the past few months.
The board chairman for Salix, Thomas D'Alonzo is also the acting CEO and said the company had been pleased that the new offer recognized the true value of Salix as a leader in gastrointestinal specialty treatments.