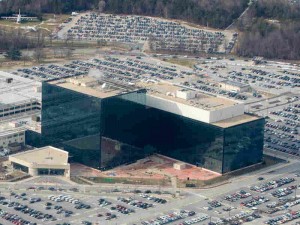 Reports have emerged of shots fired during a disturbance at a gate near NSA headquarters at a military base. Reports are saying that at least two people have been injured and one has died. Emergency responders were quickly on the scene, according to Fort Meade spokeswoman Mary Doyle. The injured parties were taken to a nearby hospital by ambulance. It is not yet known exactly how those injuries occurred. The names of the injured and the dead have not yet been released.
The NSA headquarters are located about 25 miles northeast of Washington at Fort Meade. Fort Meade is headquarters for the NSA and several other intelligence, information and cyber-security agencies under the Department of Defense. Around 11,000 military personnel and 29,000 civilian employees work at Fort Meade, including thousands that work for the National Security Agency. Nearly 6,000 family members of the military personnel assigned there also live on the base. According to information on the base's website, the base covers nearly 8 square miles.
According to video from WUSA-TV's helicopter, a police vehicle and An SUV appear to have collided outside the base. Images from the scene show a damaged, dark-colored SUV and a damaged white police SUV alongside an ambulance. Images also show an apparent body covered in a sheet near the dark-colored SUV. The video shows what appears to be a man in uniform being wheeled to an ambulance on a stretcher.
Initial reports are saying that the driver of the SUV used the vehicle to ram the gates of the facility. The driver tried to bash the gate around 9:30 a.m. Police shot at the SUV during the incident, leaving one person dead. Anne Arundel County police said the NSA is handling the investigation. This is not the first incident of its kind this month. Earlier this month, a former corrections officer was arrested for shooting at the NSA building at Fort Meade, as well as firing at several other buildings on the base.