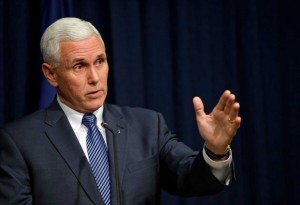 Indiana recently passed the first religious objection law in the country, but now lawmakers are facing a considerable political backdraft for their votes to enact the law. Gov. Mike Pence of Indiana, a Republican, told The Indianapolis Star in an interview that he was surprised by negative reactions to the state's Religious Freedom Restoration Act, signed into law by him last Thursday. The governor stated, "I support religious liberty, and I support this law."
Pence announced over the weekend that he would seek legislation to clarify the intent of the law. He said in an interview on ABC's "This Week" with George Stephanopoulos, "We're going to continue to explain it to people who don't understand it, and if possible, we will find a way to amplify what this bill really is in the legislative process." The governor expects that legislation clarifying the law would be introduced in the General Assembly at some point during this week. No details have been offered on what that clarification might be.
The law was intended to protect individuals or companies from being forced into actions that impose a substantial burden on their religious beliefs. Both proponents and critics of the law say that it would allow Christian vendors to refuse service to same-sex couples without having to face any legal reprisals. Pence has repeatedly denied that the law officially sanctioned discrimination against gays and lesbians.
The growing political firestorm over what has been portrayed as a religious freedom law has caused a number of issues for the state. Thousands of protesters gathered at the Statehouse on Saturday to protest the law. Multiple businesses and other governments have publicly announced a halt to business with the state over the law.
Mayor Ed Murray of Seattle announced a ban on city employees traveling to Indiana for work using city funds. CEO Marc Benioff of Salesforce.com also announced that his company would halt all corporate travel to Indiana. CEO Bill Oesterle of Angie's List said his company was considering abandoning a deal with Indiana and Indianapolis to expand its headquarters.
Preparations in Indianapolis for the N.C.A.A. men's basketball tournament, scheduled to take place on Saturday and next Monday, may also be affected by the issue. N.C.A.A. president Mark Emmert said the organization was "deeply concerned" about the legislation and what it means for citizens and visitors in the state.