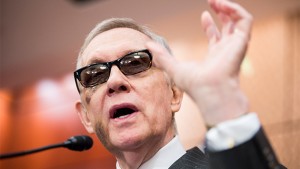 Senate Minority Leader Harry Reid of Nev. announced in a YouTube video message Friday that he would be retiring from the Senate at the end of his current term. A staff member of Reid's told CNN that the decision to retire was made by the senator and his family around Christmas, but his staff was told that he wanted to wait two months or before announcing it. This aide says Reid told people in private meetings that he doesn't want to be one of the senators who's perceived to have stayed in the Senate past his prime. His current term ends in twenty-two months.
The five-term Nevada Democratic senator appeared on the video with bruises on his face from a recent at-home exercising accident. He had denied retirement rumors for months, but after his exercising accident on New Year's Day that caused serious injuries, his tone began to change. The senator commented that the accident was not one of the factors that led to his decision to retire, but did say that the down time had given him time to think.
Reid's career in Congress has spanned four decades. Reid previously served in the House and was first elected to the Senate in 1986. He endured tough re-election battles in 1998, 2004 and 2010. Reid was a top GOP target and expecting a fierce reelection fight in the next election. Reid's seat in the Senate would be a prime pickup opportunity for Republicans in 2016. Last fall, Republicans won a majority in both houses of Congress.
During his long and controversial career in Congress, Reid was often seen as a polarizing figure. During his tenure as majority leader of the Senate, Republicans blamed him for much of the dysfunction in the chamber. In late 2013, he unilaterally moved to change Senate rules to allow a simple majority vote to overcome filibusters for certain nominations, a so-called "nuclear option" that removed the need for the usual 60 votes to advance on controversial nominations.
His departure will also spark a leadership battle among Democrats to lead the Democratic Party in the chamber. Likely replacements for senate minority leader include Illinois Sen. Dick Durbin and New York Sen. Chuck Schumer. Schumer issued a statement within minutes of Reid's announcement praising Reid as "one of the best human beings I've ever met." Schumer continued on to say, "He's so respected by our caucus for his strength, his legislative acumen, his honesty and his determination. He has left a major mark on this body, this country, and on so many who have met him, gotten to know him, and love him."