The Galaxy Note 5 will be one of the most anticipated devices of the calendar year. In the months to come, rumors and speculation should run rampant about what users can expect when the Note 5 gets released.
Here's a look at what we know about the release date and specs for the Galaxy Note 5.
The size of the Note 5 has been one of the most talked about specs. The previous version, the Galaxy Note 4, was 5.7 inches, which was just a half-inch larger than the Galaxy S6 smartphone.
Recent leaks suggest the Note 5 will feature a 5.9-inch Super AMOLED display, which is a surprise that some people may need to see to believe.
Other reports of a 4,100-mAh battery would support the rumors of the Note 5 increasing in size from its predecessors, as the Note 4 featured a 3220-mAh battery.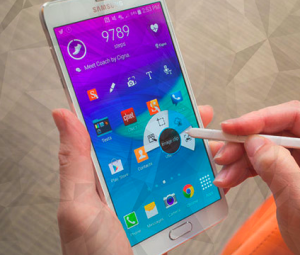 Other rumors indicate that Galaxy Note 5 will utilize a Type-C USB port, wireless charging capabilities, and UFS 2.0-powered internal storage.
Powering the Note 5 will be Samsung's Exynos 7422 processor, which is more powerful than what's currently being utilized in the Galaxy S6 and Galaxy S6 Edge.
The Galaxy Note 5 will also be accompanied by a more advanced S-pen stylus, which figures to be another improvement from previous versions in the Note series.
Finally, there's the all-important release date. It's been believed for some time that Samsung would release the Galaxy Note 5 at IFA 2015, which is set to take place in early September.
However, it's been impossible to ignore rumors that Samsung would break tradition and end up launching the Note 5 in August, or possibly July, in order to beat Apple's release of the iPhone 6S.
A July release date may be hard to believe, but an August release of the Galaxy Note 5 shouldn't be ruled out.
Of course, these are merely rumors and speculations, but there are good reasons to think they will end up coming to fruition. But until Samsung delivers something concrete, the speculation on the release date and specs of the Galaxy Note 5 will continue.