Samsung is aiming to improve highway safety by adding a screen to the back of trucks that will allow drivers to see what's in front of the truck. The new technology will make it safer for vehicles to overtake trucks on two-lane highways.
Samsung is calling the project the Safety Truck, and it will involve mounting a wireless camera on the front of the truck that will display video of what the truck driver is able to see on a set of four screens attached to the back of the truck. This will make it easy for drivers behind the truck to know when it's safe to overtake the truck on the left side.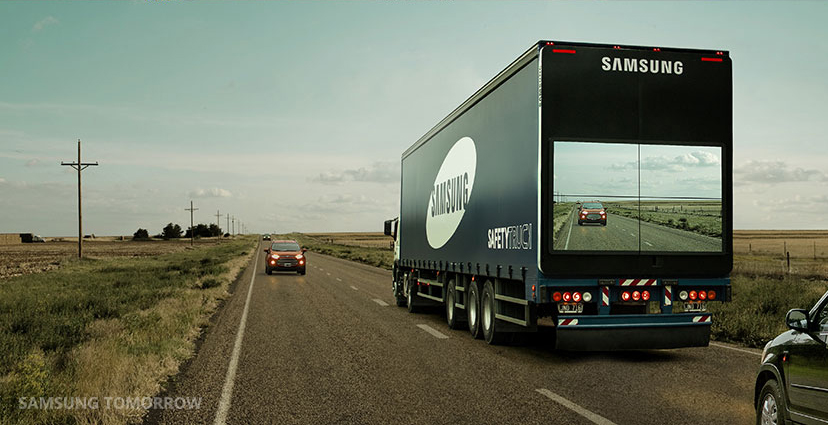 A posting on Samsung Tomorrow explains, "This allows drivers to have a better view when deciding whether it is safe to overtake. Another advantage of the Safety Truck is that it may reduce the risk of accidents caused by sudden braking or animals crossing the road."
However, there are questions about how viable the Safety Truck will be on multi-lane highways, as it may confuse drivers rather than help them. There are also concerns about the quality of the video being shown to drivers behind the trucks.
The technology is currently being tested in Argentina, where head-on collisions involving vehicles that are attempting to overtake slow-moving trucks is one of the most common causes of automobile deaths due to the country's high volume of two-lane roads.
If the trial in Argentina goes well, Samsung is hoping to expand the Safety Truck worldwide, as they are currently working on getting the technology approved by international road safety authorities. If Samsung can make the trucks ready for the road, they may be able to play a role in preventing crashes and saving lives.
Source: Samsung Tomorrow.