AT&T is offering several devices for no down payment, including the HTC One M9 smartphone. The deal is contingent on the buyer signing AT&T's standard two-year contract.
The other devices that are available for the same deal include the Galaxy S6 and Galaxy S6 Edge. Those who would prefer not to sign the contract can buy the HTC One M9 outright for $689.99.
The HTC One M9 was released earlier this year in April, offering users a narrower and thicker phone than its predecessor, the M8. It comes standard with a Qualcomm Snapdragon 810 system-on-chip with 3GB of RAM.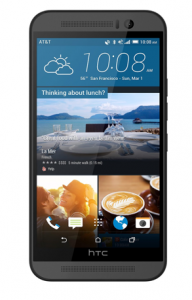 There is a 5-inch display and 32GB of internal storage. The phone runs on the Android "Lollipop" with HTC's Sense 7 software suite.
One of the biggest differences between the HTC One M9 and the M8 is the camera. The M9 has a rear 20MP camera with autofocus and a dual-LED dual tone flash.
The camera location also differs from the M8.
Part of what distinguishes the HTC One M9 from other phones is the sound quality, as the BoomSound system is ideal for watching videos or listening to music.
The size and weight of the phone has also been described by users as ideal, not too light in your hands but not too heavy in your pocket.
With the updates and improvements the HTC One M9 features over previous versions of the phone, not to mention its favorable reviews when compared to other smartphones, picking one up with zero money down is an incredible deal that can't be passed up.