NEW YORK – This year's International Yoga Day celebrations were held at New York's Times Square, and it took place on Sunday, which happened to be this year's summer solstice – that is, the longest day of the year.
While hundreds of people attended the yoga session at the stated venue, hundreds of thousand others from around the world were able to either watch or join the session via webcast – meaning that it was streamed live for yoga enthusiasts around the globe.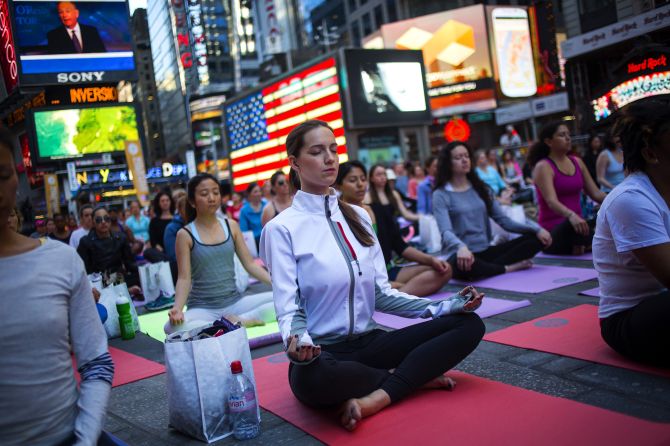 The UN Secretary-General Ban Ki-moon gave the keynote address to open the yoga festivity, and he said in a statement before the event opened that yoga provides an accessible and inclusive platform for people everywhere to promote their spiritual and physical health. He added that it brings peace and respect for others, and offers love for our planet.
Ban Ki-moon's speech was shown live on the screen of the Nasdaq building – a seven-storied structure, in Times Square.
Indian Prime Minister Narendra Modi at the UN General Assembly in September last year raised the idea for the international celebration of yoga, saying yoga is a holistic approach to health and wellbeing.
As the yoga festivity got underway in New York, spiritual leader Sri Sri Ravi Shankar gave a demonstration of how yoga benefits everybody at a seminar. Shankar said yoga breeds peaceful and creative citizens, and that it brings unity across world religions, races, and people of various nationalities.
Yoga sessions have held for several years at the New York Times Square, but this is the first time the venue would host the International Yoga Day event.
According to the president of the Times Square Alliance, Tim Tompkins, he joined others to observe solstice at the Times Square since 13 years ago, and he is glad that the event has been given an international recognition and appeal.