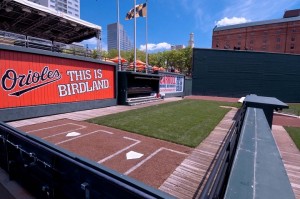 The Baltimore Orioles and the Chicago White Sox will play to an empty Camden Yards today after several days of unrest in the city of Baltimore. The league decided that the gates of Camden Yards would not be opened to the public for the game to prevent taking police and other public safety personnel away from their tasks being performed elsewhere in the city. This will be the first time that major league baseball players will be playing an official game with no fans in the stands.
Peaceful protests over the death of Freddie Gray in police custody deteriorated into riots and looting that spread across the city. Gray reportedly took off running through his Baltimore neighborhood when spotted by the police, prompting them to give chase. While fleeing from police is not, by itself, illegal in America, a different standard is applied in places where street crime is common, like inner city Baltimore. Gray died from spinal injuries and a crushed windpipe about a week after he was arrested and transported in a police van, despite repeatedly pleading for medical attention when arrested.
The civil unrest in Baltimore has resulted in two days of postponements of games between the teams. The final game of the scheduled three-game series was moved to the afternoon to comply with a citywide curfew of 10 p.m. The ongoing safety issues have affected the players of both teams. The White Sox hadn't left their hotel for two days except for a workout Tuesday.
Orioles' center fielder Adam Jones spoke to the people of the city today, saying, "It's not an easy time for anybody." "The last 72 hours in this city have been tumultuous to say the least," he said, continuing, "We've seen good, we've seen bad. We've seen ugly. Our games canceled, postponed, relocated, a city that is hurting, a city that needs its heads of the city to step up and help the ones who are hurting."
The game presentation was set up to be as normal as possible for the fans viewing the game on television. The national anthem will be played and the lineups will be on the scoreboard, just like usual. The only noticeable differences for most fans would be the noise level in the stadium and the lack of fan interaction during the game.