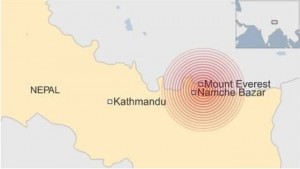 Yet another strong earthquake shook Nepal sending people in the capital Kathmandu rushing out on to the streets weeks after a devastating quake killed more than 8,000 people and destroyed hundreds of thousands of homes on April 25.
There were no immediate reports of damage to buildings. Shopkeepers closed their shops
The U.S. Geological Survey said the quake had a magnitude of 7.1 and struck 68 km west of the town of Namche Bazar, close to Mount Everest. Strong tremors were felt in the capital of Nepal, Kathmandu, that was badly damaged in last month's earthquake.
Shockwaves were felt across northern India and into the capital of New Delhi. "This is a really big one," Prakash Shilpakar, the owner of a craft shop in Kathmandu, told the Reuters news agency.
Reportedly homes damaged by the previous tremor caused houses to start to collapse.
Jack Board, a reporter at Channel NewsAsia, filmed chaotic scenes at Kathmandu Airport of hundreds of people running from the building as the ground shook.