Alaska – President Barack Obama is currently visiting Alaska on his three-day journey to the state. His goal is to raise awareness about climate change and to point out ways the US can aid to prevent further global damage.
At 9:00 pm ET on Monday, Obama attended the GLACIER Conference (Global Leadership in the Arctic: Cooperation, Innovation, Engagement and Resilience) at Anchorage to give a speech. After greeting and thanking all of the attendants and Alaskans that have been part of his trip, Obama stated the relevance of addressing to climate change while we still have chance, alleging that not only the Arctic and the countries that surround it are in danger, but "the entire world, as well". The president invited leaders of foreign nations to assume their necessary roles in the struggle against climate change, claiming that the problem will not be eradicated just by one nation's efforts.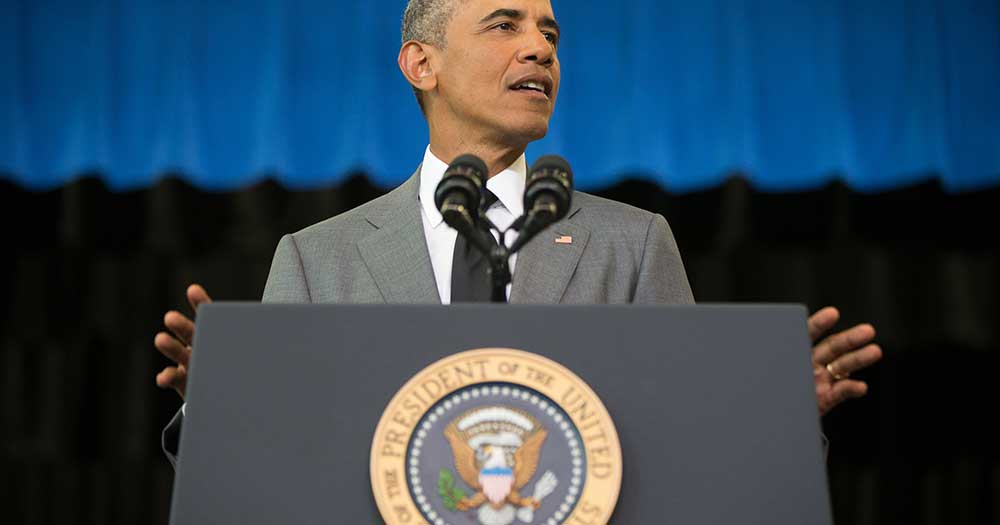 "We are here today to discuss the challenge that will define the contours of the century more dramatically than any other, and that is the urgent and growing threat of a changing climate. Climate change advances each day," Obama said. "The science is stark, it is sharpening, and it proves that this once-distant threat is now very much in the present," President Obama added.
Obama also said on Monday that world leaders must agree to cut carbon emissions at a UN summit scheduled in December, as climate is changing faster than efforts to reduce global warming. He recognized that the US played a big part in raising the Earth's temperatures and "embraces our responsibility" to help fix the problem.
Moreover, Obama said that the Arctic is already feeling the effects of climate change noting that Alaska had "some of the swiftest shoreline erosion rates in the world," which menace coastal villages. Forest fires are also accelerating due to climate change, which threatens homes and damages roads in the state and also releases carbon stored in the land, which contributes to the problem.
In a context where Obama has to unite efforts and persuade Americans to make the difference regarding to climate change, he has two audiences in mind. First the Alaskans, who are hungry for more energy development to boost the state's oil revenues. Second, he aims for the broader public, whose focus Obama hopes to concentrate on the need for drastic action to combat global warming, including a climate deal that Obama hopes will help solidify his environmental legacy.
However, the president struggles with several contradictory events. While he constantly warns and calls to reduce greenhouse gases, environmental activists were offended when his administration allowed a expanded drilling off Alaska's northwest coast. Actually, this occurred just a few weeks before he went to Alaska to discuss about climate change.
But, many Alaskans, who have echoed Obama's warnings about environmental changes, have requested him to allow more oil and gas to be drilled out of Alaska's soil and waters. Currently, Alaska faces a $3.5 billion deficit this year as a result of falling oil prices, forcing state budget cuts that have wreaked havoc on rural services.
"History has shown us that the responsible energy development which is the lifeblood of our economy can exist in tandem with, and significantly enhance, our traditional way of life," leaders of the Arctic Slope Regional Corporation, said.
After his speech on Monday night, Obama is scheduled to board a US Coast Guard cutter on Tuesday to tour Kenai Fjords National Park and to hike to Exit Glacier. On Wednesday, Obama will meet with fishermen locked in conflict with miners over plans to build a massive gold and copper mine in Bristol Bay, home to the world's largest salmon fishery, located in Southwest Alaska.
Source: Shallow Nation