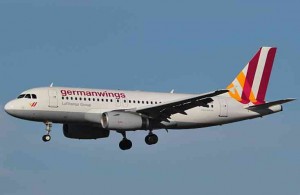 There are no survivors expected to be recovered after a Germanwings passenger jet crashed in southern France. The commercial jet crashed Tuesday while flying from Barcelona to the German city of Dusseldorf. French President Francois Hollande said finding survivors of the accident is unlikely. Around 150 people are feared dead in the crash.
Lufthansa, the company that owns the plane, said in a statement that it is a "dark day" for the airline. The company reported that the plane went down in the French Alps. In a statement, Germanwings reported that there were 144 passengers and 6 crewmembers aboard the plane when it went down. The plane was reportedly carrying nationals from Spain, Germany, and Turkey. A manifest for the flight has not yet been released to the press.
Germanwings Flight 9525 departed Spain at 9:55 a.m. local time for a scheduled two-hour flight. Roughly 22 minutes later, the Airbus 320 issued a distress call and disappeared from radar. Flight tracking systems indicated the plane was cruising at 38,000 feet at 5:30 a.m., but was down to 11,400 feet eight minutes later, declining at a rate of more than 3,000 feet per minute. The data tracking system provided no further information on the flight.
The crash reportedly occurred near Digne les Bains, in the Alpes de Haute Provence region, roughly 65 miles north of Nice. According to initial reports, crash debris from the plane have been found at an elevation of more than 6,500 feet. The cloudy conditions in the region were not believed to be a factor in the crash. The crash was the first crash involving a commercial jet on French soil since a Concorde jet crash killed 113 people in July 2000 outside of Paris.
Germanwings is a budget subsidiary of Lufthansa known for taking passengers from Germany to tourist areas along the Mediterranean. A Lufthansa spokeswoman announced that the airlines have launched an investigation into the crash. More information will be released by the airlines as soon as available.