The creation of a new travel jacket, an innovative idea by Hiral Sanghavi, has become the forth most funded campaign on Kickstarter raising $9 million. Although his first objective was to raise only $20,000, it became the most funded clothing project in the history of crowdfunding.
The Baubax jacket, called the "Travel Jacket", has fifteen features which include several special pockets to carry a drink, an iPad, a passport, a blanket, a portable charger, a microfiber cloth and sunglasses. Other features like a neck pillow that inflates in two seconds, an eye mask, earphone holders, gloves and a zipper for a pen and a stylus are the most attractive ones for buyers.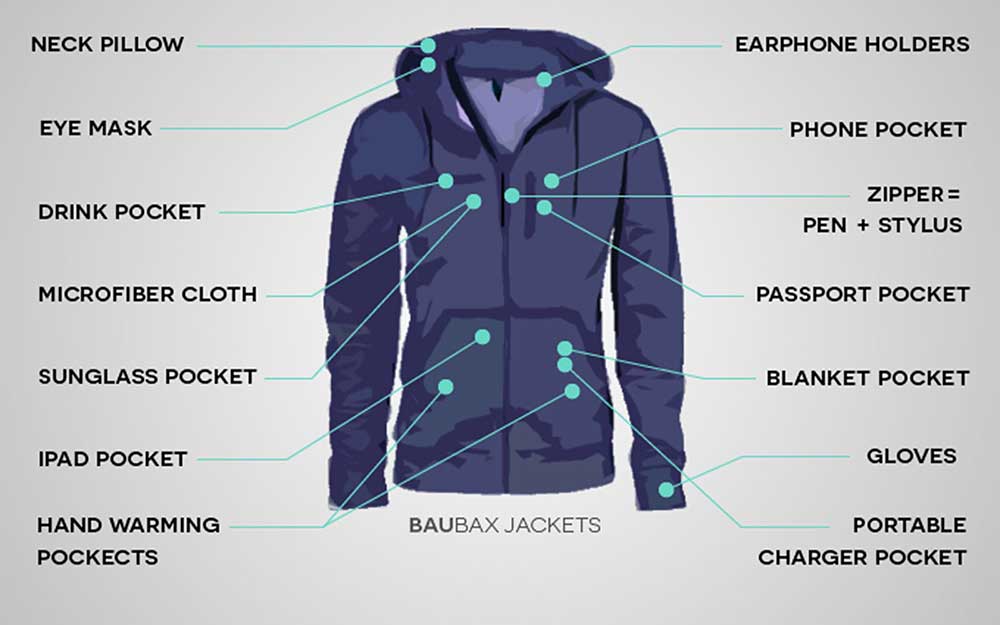 The piece of clothing was made to become ideal for travelers, especially at the airports or in cold weathers. It comes in a wide range of colors and four styles including sweatshirt, windbreaker, bomber, and blazer, for men and women.
According to its Kickstarter page, 44.949 sponsors have contributed to raise $9.192.055 to create and give life to this project. Hiral Sanghavi, who is a serial entrepreneur and now an MBA student at the prestigious Kellogg School of Management, Northwestern University, said the 45,000 backers ordered 70,000 jackets that are priced between from $89 to $120.
On the page it is also clear that the jacket is available for preorder and should be ready to ship by the winter travel season. Sanghavi also expects to have the jacket in retail stores next year."We are perfectionists!" the Kickstarter page reads. "We have done our homework, so the risks are minimal. We have identified and locked in our manufacturers who will be able to ship within 60 days of successful project funding, so you can enjoy your very own BauBax Jackets before the winter travel season kicks in."
Who would have it most in handy?
A study made by Timetric revealed which countries travel the most, both domestically and internationally. The survey found Finland as the most well-traveled country in the world, with the average Finn making 7.5 trips a year.
United States resulted to be the largest domestic travel market in the world, with the average American making 6.7 trips annually, although only 1 out of 5 Americans traveled abroad in 2013. In fact, fewer than half of Americans own a passport.
Other countries like Sweden, Denmark, Norway, Hong Kong, New Zealand, Canada, Australia, and France are also in the list of the countries that travel the most.
The survey concluded that Scandinavians travel the most since they can afford to, Americans are the most likely to explore their own country and Mexicans are who travel abroad the least, making 0.1 trips abroad a year on average.
Source: Kickstarter