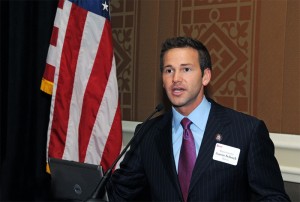 Rep. Aaron Schock, R-Ill., has announced his resignation from Congress after an inquiry into his spending practices found a number of abnormalities. Schock abruptly announced with no warning to House leaders that effective March 31, he would resign from his seat in Congress. A special election will be held within 120 days of the vacancy.
The Office of Congressional Ethics had opened an apparent investigation the previous day and had begun contacting the congressional representative's associates. His resignation would not necessarily end legal proceedings against him, but would leave congressional investigators without jurisdiction. However, those investigators could refer the matter to the Federal Election Commission or to the Justice Department.
The allegations against Schock were numerous. Claims were made that Schock accepted rides on donors' private planes without properly reporting the expenses and made astonishingly lucrative real estate deals with political supporters. After it was found that he spent $40,000 in taxpayer money on decorating his office in the style of the PBS show "Downton Abbey," he paid back the money.
Supporters for Schock back in Peoria expressed disappointment upon hearing the news. In Illinois, he was seen as a different type of politician untouched by the long history of political corruption in the state. Schock has thousands of fans on Instagram and has also posed for the cover of Men's Health, appearing bare chested on the magazine. In a statement, Schock said, "…the constant questions over the last six weeks have proven a great distraction that has made it too difficult for me to serve the people of the 18th District with the high standards that they deserve and which I have set for myself."
Schock started his political career as a write-in candidate for the Peoria School Board when he was 19 years old. At the age of 33, he was in his fourth term in Congress and was one of the primary poster children for the GOP, using his national profile to become an impressive fundraiser for fellow Republicans. Last summer, Schock was elevated to a House leadership position as a senior deputy whip.