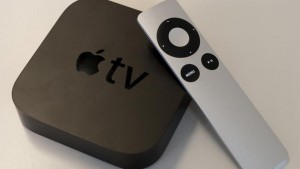 Apple's new version of its Apple TV set-top box will be unveiled at the Worldwide Developers Conference this year, as reported by initial statements from company employees. According to a report from Buzzfeed, people claiming to have knowledge of the company's plans said that the new Apple TV box would be unveiled at the conference along with a software development kit for developers to create apps for the new set-top box. An official date for the Developers Conference has not yet been announced by Apple, but the show usually occurs in early June.
The Apple TV box originally debuted in 2007 as a device designed to transmit iTunes content to a customer's television. Subsequent versions of the original device focused solely on streaming content to the television. The Apple TV box currently offers access to iTunes content, as well as a host of apps, ranging from YouTube to HBO Go. Owners can also rent and buy movies and television shows from the device.
Apple claims to have sold 25 million Apple TV units since the product's release in 2007. The last update to the Apple TV device was released in 2012. The company recently reduced the price on the Apple TV to $69 from its previous $99 price tag, potentially to get rid of the older models before the new model is announced.
The company says that the new device will look slightly different than the older versions and contain more storage than the current device's 8GB. The new device will also include additional features not available with previous models. The new device could include a Siri voice control feature and provide support for HomeKit, Apple's home automation platform. The updated Apple TV device would also include access to the App Store that would operate in a similar manner to the App Store on devices running the iOS operating system, such as the iPhone and the iPad.
A report in The Wall Street Journal revealed that Apple has been working to launch a service later this year that would allow users to stream programming from various television networks, including ABC, CBS and Fox. Starting next month, Apple TV users can access HBO's HBO Now streaming-only service, initially only available on Apple TV devices.