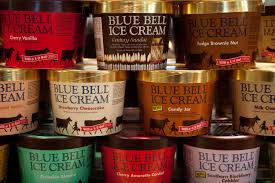 After several recalls of specific Blue Bell ice cream products because of them testing positive for Listeria, concern and risk has grown to the point that the company is now pulling all products from store shelves.
Blue Bell Creameries released a statement saying that all frozen dessert products will be taken off the market because of concern of contamination with listeria bacteria. To date, Blue Bell ice cream products have been directly linked to five illnesses and three deaths in the states of Kansas and Texas, this according to the US Centers for Disease Control and Protection (CDC).
A company spokesperson confirmed that new tests reveal that half-gallon containers of chocolate chip cookie dough ice create are also infected. These products were produced on two different dates in March. Because of this, listeria has tested positive in several places and plants and without knowing how the bacteria was introduced, the company feels the only remedy is by removing all of its products to roughly 50% of the US.
For healthy people, listeria does not usually cause serious illness but for young children, older people, and those with compromised immune systems, significant illness and even death is possible. According to Dr. Robert Glatter, ER doctor at Lenox Hill Hospital in New York City, every year, listeria causes about 1,600 infections.
Because of these infections, roughly 260 people die. Although this number is less than seen with another major foodborne illness known as salmonella, listeria is still very serious. However, as stated by Dr. Brendan Jackson, medical epidemiologist with the CDC, become violently ill from listeria is rare.
Dr. Jackson points out that those at greatest risk cannot fight the infection. This includes individuals with diabetes, HIV, and heart disease, as well as pregnant woman, infants, and the elderly. If someone were to consume food contaminated with listeria, most will not become ill but those at risk would experience nausea, vomiting, diarrhea, and muscle aches.
One of the biggest challenges specific to listeria is that in the refrigerator, it can actually grow and multiple. While finding listeria in ice cream products is highly unusual, Blue Bell is not taking any chances.
The Blue Bell ice cream outbreak is the first of its kinds since listeria is more often identified in ready-to-eat meats and soft cheeses. However, listeria can live in a food processing plant for years, making it extremely difficult to identify and contain. In addition, there is an incubation period that lasts between 3 and 70 days.
As part of the Blue Bell statement, the company says it plan to resume normal distribution soon although it will be on a limited basis but only after the safety of its product is verified. Anyone has purchased Blue Bell ice cream can return it to the store for a full refund.