UTAH – The 8-year-old ballerina, Alissa Sizemore has performed excellently for Today Show as Caillat sang. When she had an accident last year and had to be amputated at her right leg, everyone would have thought that Alissa Sizemore's ballet dancing was over, but the 8-year-old proved them wrong during a recital at the Utah dance studio when she performed excellently to Colbie Caillat's song, Try.
The song urges everyone to overcome physical limitations and project the gifts within, and Alissa did just that. At a time during the dance, she even removed her prosthetic and took over the floor. She had started ballet class when she was four, but now 8 with one leg amputated, Alissa is doing more than try to reach the peak of her talent.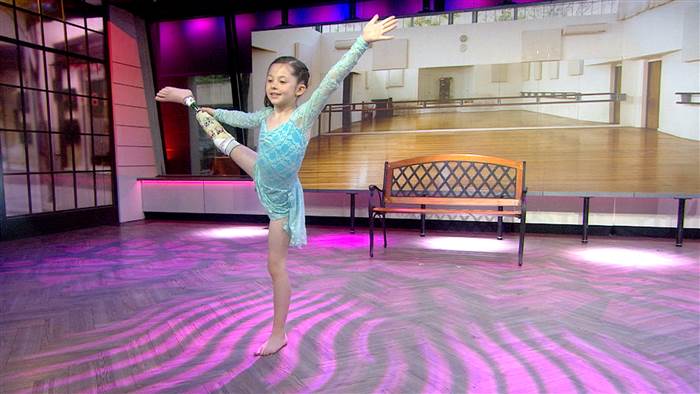 With a video of her performance already viral, the young ballerina had performed for Today as Caillat sang. And when Caillat later thanked Alissa for dancing to her song and praised her joy and inner strength, Alissa said she only had Caillat to thank for the opportunity.
The young ballerina sustained serious leg injury last year May when she got before a delivery truck which was stopping already; with the vehicle standing on young Alissa's right foot. Doctors had ended up amputating the leg below the knee. Alissa recalled the accident by saying the incident changed her life, "but it hasn't changed me."
The young girl said she wanted to show everyone she could still dance despite having had one leg amputated, and performing a public dance was one way to prove her abilities again.
Alissa's mother, Heather Sizemore, said she was always overcome with emotions when she watched her dance, her eyes filling with tears as the young girl just goes ahead to have fun on the dance floor no matter what people thought. And to her father, Phillip, the young girl "makes me real proud."
Caillat gave out a bouquet of flowers and a gift basket as well as a ticket to her upcoming concert in summer, and showed how much she appreciated the talented, little dancer.