KABUL, AFGHANISTAN – Taliban insurgents were reported to have attacked the Afghan Parliament while members were in the process of confirming the nomination of a defense minister. This incident occurred on Monday morning, and there did not appear to be fatal casualties as defense forces engaged the insurgents.
The Taliban insurgents appeared to have timed to attack to coincide to the time when Masoom Stanekzai, the acting defense minister, came to the parliament to have his nomination confirmed by parliament. Stanekzai together with second Vice President Sarwar Danish had just arrived the hall when the attackers blew it open.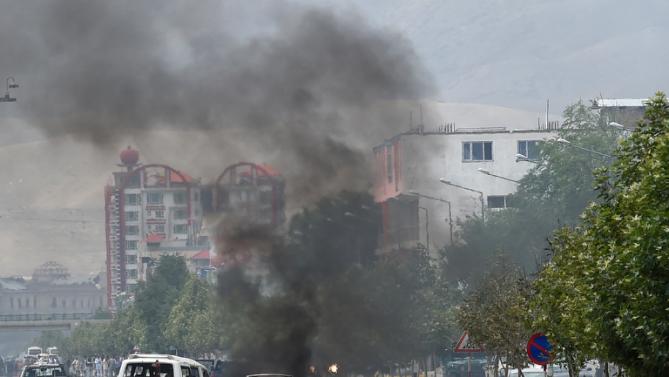 Afghanistan had not had any confirmed defense minister for the past 10 months – in fact since last year September when President Ashraf Ghani came into power. President Ghani had nominated two other defense ministers, but their nominations were not confirmed by parliament; Stanekzai appears to have however won the hearts of the lawmakers.
The Afghan Parliament completed their term on Sunday, but there is no concrete arrangement on ground for new elections between President Ghani and the coalition. And to this end, Ghani said he will be staying on in power until the people hold a new election.
Urfanullah Urfan is a lawmaker and within the parliament hall when the attackers struck, and he confirmed via telephone that smoke and dust filled the hall from explosions. He noted that the assailants possibly shot rockets into the parliament building from across a building across the street.
Urfan confirmed that fight is still ongoing, even though no lawmaker was injured and there were all being moved to safety. "No M.P. is killed yet, but there are possibilities of minor injuries," he said. "Right now everything is under control. There are security forces at the scene to fight off the attackers."
The Taliban confirmed it was behind the attack, and Zabihulla Mujahid, its spokesman posted a tweet saying: "Parliament of the puppet administration of Kabul is under heavy martyrdom-seekers attack at a time which they were casting confidence vote for the minister of defense."
Source: Yahoo News.