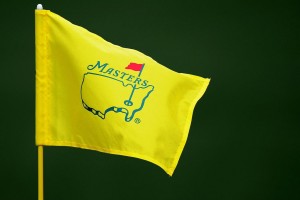 The 79th Masters Tournament started today with three golf legends launching the first shots of the game. Arnold Palmer, Jack Nicklaus and Gary Player are all lauded for making the sport of golf more popular than anyone could have expected when they entered the game many years ago. When Palmer, Player and Nicklaus teed off and hit the first balls to kick off the tournament, hundreds of spectators were there to watch and applaud.
The first tee in front of the stately Augusta National clubhouse was packed with tournament players and spectators there to watch the greats play. Defending champion Bubba Watson, Keegan Bradley and Rickie Fowler were among the current players watching the kick off to the event. Fowler was technically at the first tee six hours and 19 minutes early, as he is scheduled to hit last in the opening round of the Masters.
Palmer, Player and Nicklaus have always have been and still are intense rivals and their relationship on and off the course has helped both the game and the business of golf. Seven-time major winner Palmer yanked his tee shot left toward the ninth green. Player drove his ball a few feet past Nicklaus, a six-time majors winner. After teeing off, the greats engaged in a 30-minute news conference, telling stories and making quips for the audience.
The tradition of honorary starters for the Masters Tournament began in 1963 with Scottish-American major winners Jock Hutchison and Fred McLeod. In subsequent years, golf greats Byron Nelson, Gene Sarazen, Sam Snead and Ken Venturi have all been honorary starters for the tournament. In the future, candidates for the ceremonial honor may include Crenshaw, three-time winner Nick Faldo or two-time winner Tom Watson.
At the Par-3 Contest held on Wednesday, Nicklaus scored an ace, making it his first Augusta hole-in-one. The golfers aren't as young as they used to be. Nicklaus commented, "Nine holes on the Par-3 yesterday darn near killed me." The 85-year-old Palmer skipped the Par-3 event because of a shoulder injury. Ben Crenshaw, twice a Masters winner, stepped in for him to play alongside Nicklaus and Player in the contest.
To inspire golf's youth players, the Masters has started a competition at Augusta National for players aged seven through 15 that occurs on the eve of Masters week. The girls' and boys' winners of Augusta's Drive, Chip & Putt Championship join in hitting the first balls to start the Masters.