An African-American man was shot and killed in San Diego, California by police officers, sparking new protests regarding police brutality and abuse in the United States.
A black man that looked "very distressed" according to witnesses spent more than an hour walking through the traffic at a shopping center in El Cajon. Police officers arrived at the scene and proceeded to shoot and kill the man, later identified as Alfred Olango, 38, after he took an electronic cigarette out of his pocket.
A new case of police discrimination
The officer fired in response after the African-American pulled the cigarette and pointed it at the policeman, while a second police officer was trying to subdue him using a stun gun. The investigation has concluded Olango was suffering an emotional breakdown after losing his best friend.
A video is being used as the primary source of the on-going investigation, which was recorded by a passerby. So far, the San Diego Police Department has released a single frame from the video, where Olango can be seen with his hands clasping the cigarette and pointing it directly at the police officer who also was in a shooting stance.
"An officer doesn't have enough time to wait to determine if that's a gun in his hand. If a person is pointing something at an officer and he believes it's a gun, and it is a gun and that officer doesn't have his gun out, that officer will lose that gunfight," has declared Chuck Drago, a former Florida police chief.
Olango's family has stated it is "unfair" to release only a frame, demanding the full video should be made public.
Alfred Olango's history
Olango came to the United States as a Ugandan refugee. Since his arrival, he has had several clashes with the law. He was arrested for driving under the influence and for selling cocaine. In 2005, he was detained in Colorado for having ecstasy and marijuana in his car and was found to be in illegal possession of a 9mm semi-automatic handgun. He pleaded guilty and was sentenced to four years for being a felon in possession of a gun. He was released in 2009.
Immediately after Olango's shooting, peaceful protestors gathered in the area where the incident occurred, carrying candles. Demonstrators yelled "no justice, no peace, no racist police." It was reported that around two hundred people attended.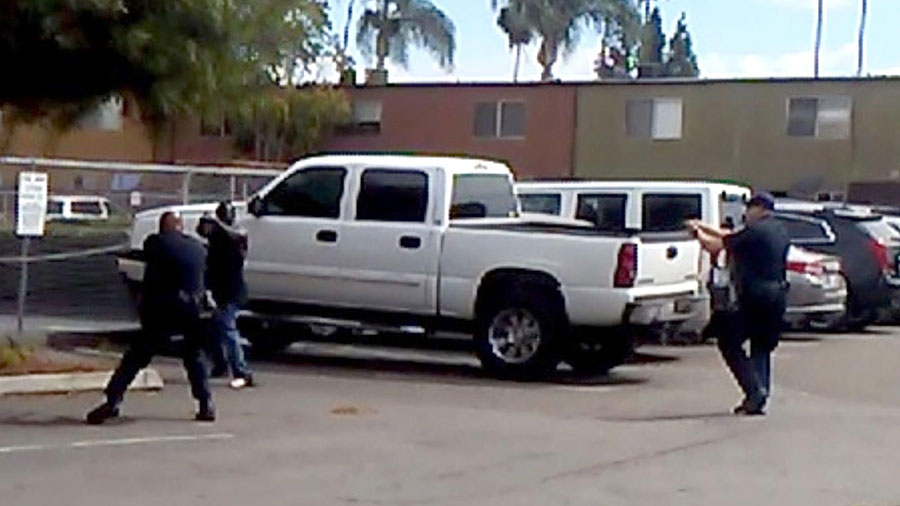 The police officers involved in the shooting
Police officers wearing riot gear also gathered near the shooting place, keeping their distance from the protestors. So far, the policemen involved in the shooting have not been identified, but Mayor Bill Wells stated both had more than twenty years of experience.
Wells also claimed one policeman was Officer Richard Gonsalves, who in 2015 was accused of sexual harassment toward a colleague. Gonsalves was demoted in response to the accusations.
The fact that one officer wanted to use non-lethal force, while the other did not need to be investigated, according to Christopher Rice-Wilson, associate director of the civil rights group Alliance San Diego. The two officers involved are currently on administrative leave while the investigation is happening, declared the San Diego Police Department.
Sources: Chicago Tribune