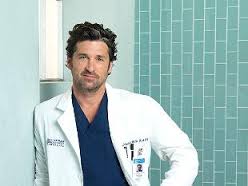 Some of the biggest television shows seem to be following the same path of major characters being killed off. Some of these include Games of Thrones, The Originals, The Walking Dead, The Vampire Diaries, and House of Cards but now, the ever-popular show, Grey's Anatomy, has also been hit.
As reported, Dr. Derek Shepherd played by Patrick Dempsey died. While some viewers were shocked, many people on the inside saw this coming for some time. After all, Dempsey made it no a secret that he was doing the show for the money and that he planned to leave the show sometime in the near future.
However, rumors also circulated that Dempsey was displaying diva-like behavior while on the set. Whether those rumors were true or not does not really matter since Shonda Rhimes has a strict policy when it comes to how stars act.
For people who suspected that Dr. Shepherd would be leaving the show, the only question was how. Last night, that mystery was finally unveiled. Last night's storyline led viewers to think Shepherd was fine after his wife Meredith, played by Ellen Pompeo, left the house with the children in the middle of the night but he was not okay.
Now that Dempsey's character is actually dead, people feel somewhat confused and upset. Fans of the show hoped there would be a happy ending so for most, the death feels almost like a cruel joke.
After all, Grey's Anatomy was a multi-layered love story about Dr. and Meredith Shepherd. Even with Dempsey gone, there is no question incredible new stories will be cranked out by Shonda Rhimes and Betsy Beers. While Dr. Shepherd did not have a happy ending perhaps his wife will.
With Dr. Shepherd gone, the storyline could take literally any direction. Perhaps she will move with the children to another country, start some type of corporation, or fall in love again. Due to the popularity of the show, Shepherd's death will not cause the fan base to dwindle. If anything, it might prompt more people to watch.
The way the story played out on Grey's Anatomy is the primary reason that Shonda Rhimes' shows are so popular. While there is always depth, viewers never know what to expect. Rhimes is a gifted storyteller who brings intelligence, humor, and emotion to shows, which is evident in both the life and death of Dr. Derek Shepherd.