NEW YORK – Following the escape of Richard Matt and David Sweat from the Clinton Correctional Facility in Dannemora on June 6, facts have emerged that prison guard Gene Palmer took paintings from the prisoners in order to supply them with tools which aided their escape.
Investigators allege that 57-year-old Palmer burnt some of the paints and then buried the others in a bush close to his home to conceal evidence.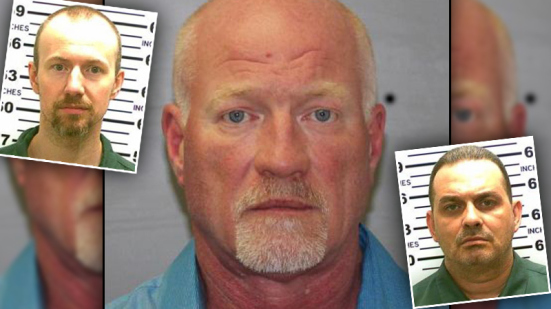 However, he was arraigned in court on Wednesday and charged with issuing prison contraband, two counts charge of manipulating evidence, and one charge of official misconduct. Legal experts believe all the charges together may fetch Palmer anything from 15 months to 7 years in prison.
According to investigators, Palmer issued a flat-head screwdriver and needle-nose pliers to the convicted killers on several occasions, starting from November last year. And Palmer was accused of providing the tools to the escaped prisoners in exchange for paintings.
Palmer is not the only prison worker arrested in connection with the daring escape, prison seamstress Joyce Mitchell was also charged for concealing hacksaw blades, drill bits, and a hole punch in the raw beef she took into the prison facility. She also denies any involvement.
Another guard that was posted to watch the cell block were the two prisoners escaped was also arraigned at the Plattsburgh Town Court, and he pleaded not guilty to the charges read to him. But with bail options of $25,000 made available to him, Palmer was released from custody after he posted bail.
Police and other investigators have however converged at Franklin County when a man reported that burglars broke in and took guns and ammunitions from a facility in Owls Head. The search is still on nearly 20 days after Matt and Sweat broke jail.