Genentech, a member of the Roche Group, announced that the U.S Food And Drugs Administration accepted their product, Actemra, for the treatment of giant cell arteritis (GCA), which is a life-threatening autoimmune condition.
The FDA granted priority review designation for Actemra based on positive outcomes of the phase III GiACTA study that evaluated the reaction people with GCA when using Actemra. Priority review status shortens the review clock to six months from the usual 10 months.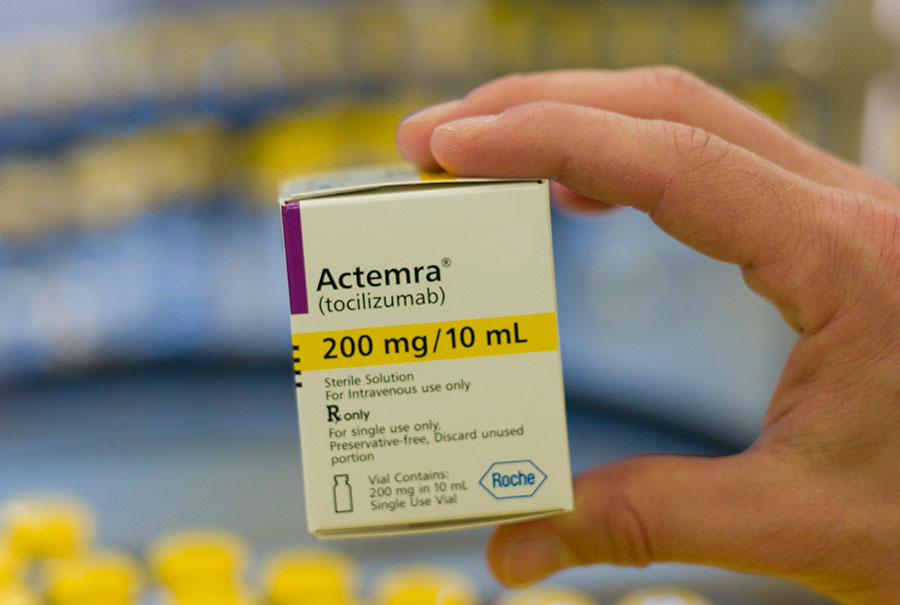 "We will continue to work closely with the FDA to bring this investigational medicine to people with GCA as quickly as possible," Sandra Horning, Roche's chief medical officer and head of global product development, said in a statement.
A new treatment for Giant Cell Arteritis
The Food and Drug Administration accepted Roche's supplemental biologics license application (sBLA) for Actemra (tocilizumab) under priority review with the aim of seeking the approval of this product in the treatment of Giant cell arteritis (GCA).
This is an inflammatory disease – also known a cranial arteritis or Horton disease – of the blood vessels involving commonly large and medium arteries of the head.
The most serious complication is the occlusion of the ophthalmic artery which is part of the internal carotid. It can lead to irreversible ischemia, blindness, and strokes if not treated promptly. It is diagnosed with a biopsy of the temporal artery.
GCA affects about 200 in every 100,000 people in the United States over the age of 50. It is two to three times more common in women than in men. Sometimes it is not easy to be diagnosed due to the wide spectrum of signs and symptoms. It can cause headaches, jaw pain and visual symptoms.
Doctors tend to treat patients with glucocorticoids (steroids) to reduce inflammation, but there is no other treatment as effective as the glucocorticoids in the market. However, this might change within a few months if Actemra is approved by the FDA, which could occur in late July.
The priority review status granted the product will reduce the process from 10 to 6 months. Actemra, a humanized interleukin-6 (IL-6) receptor antagonist, is currently approved for the treatment of rheumatoid arthritis and juvenile idiopathic arthritis.
According to the Swiss drugmaker, Actemra has shown great results in the studies. In October, Genentech said it received Breakthrough Therapy Designation for the treatment of GCA with Actemra, which is intended to speed up the development and review of medicines that have shown important clinical benefits in serious diseases to ensure patients receive access to the treatment as soon as it is possible
"This positive outcome in GCA, a condition for which there have been no new treatments in more than 50 years, demonstrates Genentech's commitment to helping patients with unmet needs," said Sandra Horning, M.D. "We are pleased by the FDA's decision to classify their review of the sBLA as a priority. We will continue to work closely with the FDA to bring this investigational medicine to people with GCA as quickly as possible."
Important facts about Actemra
Actemra is the first humanized interleukin-6 (IL-6) receptor antagonist that has been approved to treat adult patients with moderately to severely active rheumatoid arthritis (RA) who have used at least one disease-modifying antirheumatic drugs (DMARDs), such as methotrexate (MTX), but without enough relief.
Actemra is also used as an IV formulation for patients with active polyarticular juvenile idiopathic arthritis (PJIA) or systemic juvenile idiopathic arthritis (SJIA). The product is intended to be used under the guidance of a healthcare practitioner.
Though the product could be approved for the treatment of GCA within months, it is important to consider that it can cause diverse side effects. Actemra is intended to modify the way the immune system works. This could make the patient susceptible to severe infections.
Some people taking Actemra have died due to infections. Other side effects of the products include stomach ache, hepatitis B infection, nervous system problems, and changes in blood test results including low neutrophil and platelet counts.
It might also increase the risk to develop certain cancers and it can increase the cholesterol levels. Patients should tell to the doctor if they have had bad reactions while being treated with Actemra. As well, if patients are planning to get pregnant, are pregnant or breastfeeding, they should not intake the medicine.
In patients with RA, Actemra can cause upper respiratory tract infections, headache, and increased blood pressure. However, in patients with PJIA and SJIA, the common side effects produced by Actemra are diarrhea, headaches, and infections.
The GiACTA study has been one of the largest clinical trials ever conducted for GCA patients. It was a phase III global, randomized, double-blind, placebo-controlled trial to ensure the effectiveness and safety of Actemra in the treatment of Giant Cell Arteritis. It was conducted in 251 people in 76 different places over 14 countries. All of them with GCA. The primary and key secondary endpoints were evaluated at 52 weeks.
Actemra has been already approved in Japan (2005) and in the European union, china, Brazil, Switzerland, and Australia.
Source: PharmiWeb