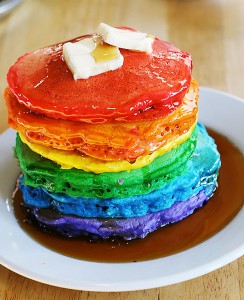 Whether used for business or pleasure, 3D printing is all the rage. However, this high-tech form of printing is now headed to the kitchen. Everyone loves homemade pancakes but using a PancakeBot it becomes possible to create fun and interesting shapes on a computer, which are then translated to the frying pan.
To help this item reach the market by July, a Kickstarter fund was started a little more than three weeks ago. Initially, the person who developed the PancakeBot set a target of $50,000 but with so many people interested in this unique 3D pancake maker, over $140,000 has been raised so far.
The primary components of the device include a vacuum and compressed air, as well as corresponding computer software. Although the program itself is extremely easy to use, it allows home cooks to create simple but also extremely elaborate designs. Virtually any shape or design is possible and once created in the computer, the PancakeBot makes pancakes that perfectly mimic.
A huge benefit of this program is that files can be saved as favorites if wanted. The patent pending design was developed by Miguel Valenzuela, a resident of Norway. The concept of the PancakeBot came about while making a pancake machine out of plastic Legos while enjoying playtime with his two daughters. After just six months, he was successfully making 3D pancakes.
Valenzuela took his invention to New York's World Maker Fair. After introducing the first prototype, he made several improvements. He then took the new PancakeBot constructed from acrylic to the White House Maker and San Mateo Fairs.
With strong interest and required funding in place, the PancakeBot will be available for purchase in just a few months. Anyone who made a pledge through Kickstarter can order their own 3D pancake printer for just $179 but for others, the suggested retail price is $299.
While some people think of the PancakeBot as novelty, perhaps a passing fad, others strongly believe this will become a standard household item. More importantly, the PancakeBot paves the way for more unique methods of 3D printing to be developed.
Everyone can enjoy eating pancakes that consist of exciting shapes and designs but the PancakeBot is actually beneficial for children who are picky eaters, people who enjoy hosting parties, wedding caterers, and others.