Washington – Before dawn the State Department included inside its headquarters the Cuban flag among the flags of nations that have diplomatic relations with the U.S.
Embassies in Washington and Havana reopened after a diplomatic freeze that lasted since early 1961.
Also, in a ceremony led by Cuban Foreign Minister Bruno Rodriguez at midnight -when the agreement took effect- the Cuban flag fluttered over a mansion in Washington amid chants of celebration accompanied by shouts of "Viva Cuba", marking the start of a new era between the two countries.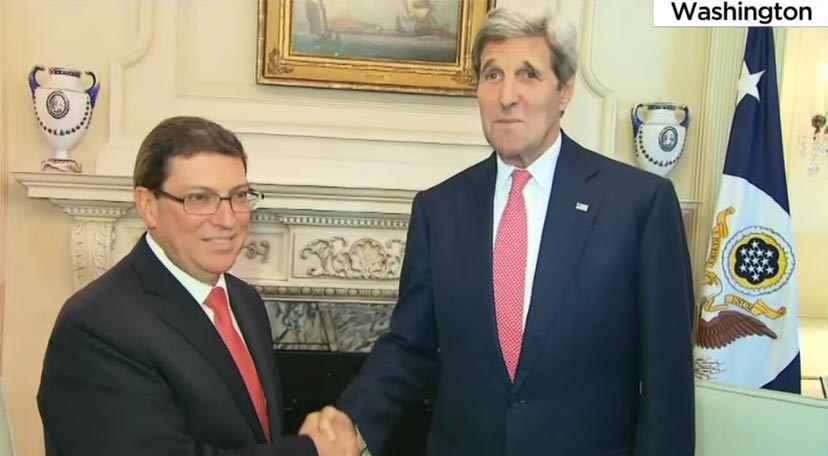 At Havana, the Cuban capital, people and families had already gathered at 6am outside the American Embassy– many with relatives in America – as they waited for interviews and appointments with officials now operating within the embassy.
President Barack Obama, who has tried to mend relations with Cuba since 2008, is likely to nominate an ambassador to Cuba White House, press secretary Josh Earnest told reporters. For now, Jeffrey DeLaurentis, a foreign service officer who becomes interim charge d'affaires, will be the top U.S. diplomat on the island.
However, the relationship between the countries remains prickly. American politicians have also called on Cuba to improve its record on human rights and democracy. Roger Noriega, a former U.S. ambassador to the Organization of American States, also commented about Cuba's human rights record, saying "I think we have had to lower our standards in order to raise our flag in Havana."
Kerry clarified that this turning point does not imply that the many differences between both governments have come to an end.
"We are sure to encounter bumps here and there, and moments of frustration. Patience will be required. But that is all the more reason to get started now on this journey." Kerry said later at a State Department news conference alongside Rodriguez. Both diplomats cautioned there is still a lot of work to be done.
Members of the Congress opposing the normalization of the relations with Cuba's communist regime, are the most resonant obstacles for this diplomatic process. They represent the efforts to prevent Obama from sending a full-fledged ambassador to the island. Most important, the are also against ending the historic embargo to Cuba.
About the Guantanamo base, Kerry said that the U.S had "no intent" to change the terms of the lease agreement executed in 1903 by the two countries. "We understand that Cuba has strong feelings about it," Kerry said. "For the moment, that is not part of the discussion."
Rodriguez also said the U.S. trade embargo must be lifted, and Kerry emphasized that Obama has called on Congress to remove it. Companies like JetBlue Airways Corp (NYSE: JBLU) have sought to capitalize on the improving relationship process, the trade embargo and enduring differences limit business and personal contacts.
"We celebrate this day — July 20 — as a time to start repairing what has been broken and opening what for too long has been closed," Kerry said.
Source: State Department