Cleveland, Ohio – The Cleveland Division of Police have released the sketches of two suspects who attempted to kidnap a woman on August 4th in the area of W. 134 St.
In one of the sketches one of the suspects is described as a white man in his 30's with a stocky body built. The second one is a described as a black man, also in his 30's. He has a thin body type and black hair cut close to his head.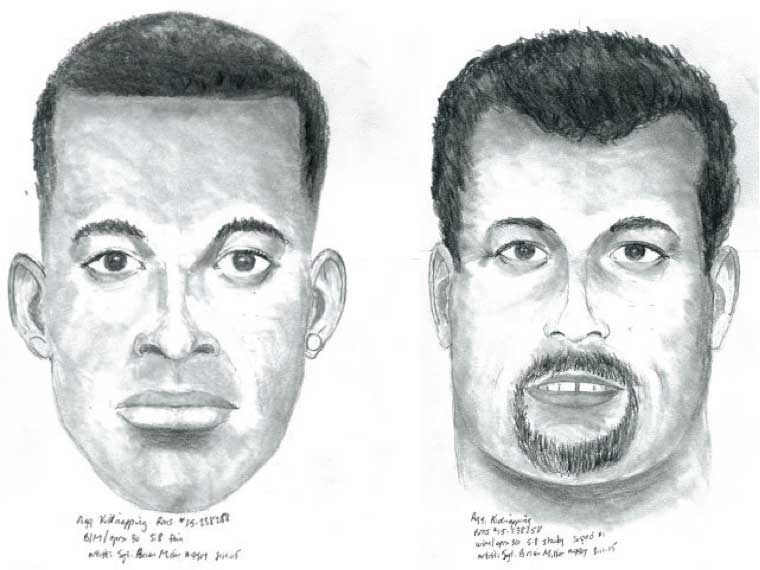 The victim, Marlena Rodriguez, told the police that she was leaving for work from West 134th Street home at about 7:15 a.m. on August 4th when two men came up from behind her back. One of them pressed a gun against her forcing her into the driver's seat of her minivan.
The woman was able to let her husband know by texting him "help me" as well as her coworker who received a text from her saying "men with guns, in car, please help".
Text message that kidnapping victim sent her husband this morning. Husband was working at the time. pic.twitter.com/mq5HmeSWzs

— Kristin Volk (@Kristin_Volk) August 4, 2015
The men forced her to drive all over West Side, including on Interstate 71, West 65th Street, Clark Avenue and West 44th Street, before she managed to escape by jumping out of the van after parking on Field Court near West 52nd Street .The two suspects fled on foot and the victim called the police.
Anyone with information should contact the First District Detective Bureau at 623-5118.
Source: Cleveland Division Of Police