Venezuelans in the country and around the world are preparing to take part in an extensive consultation on Sunday to decide the future of their country. Venezuela's opposition leaders called for a plebiscite, in which every Venezuelan will have the chance to vote against President Nicolas Maduro's Constituent Assembly.
The country has been immersed in political, social, and economic turmoil for years, and over the past months, millions of protesters have taken the streets of Venezuela to call for Maduro and his cabinet's resignation.
Maduro called in May for a Constituent Assembly, which would have the power to rewrite the constitution and dismiss the current opposition-ruled Senate, the National Assembly. The government called for the Constituent Assembly to be voted on July 30, which prompted opposition leaders to organize an unofficial consultation for the people of Venezuela.
Maduro government calls for election 'rehearsal' on the same day of the plebiscite
Maduro's predecessor, Hugo Chávez, instated the socialist rule that now has Venezuelans struggling to survive. After Chávez died in 2013, Maduro was elected President.
He has repeatedly said the unofficial consultation, dubbed "Popular Consultation" by opposition parties coalition Unidad, is illegitimate. Some government officials have threatened with sanctions to people who take part on tomorrow's plebiscite.
Yesterday, candidate for the Constituent Assembly Ricardo Molina, even said that seniors who vote in the plebiscite could lose their retirement pension. Henrique Capriles, an opposition leader and Governor of Miranda, denounced that some government employees had their ID retained –which is needed to cast a vote tomorrow- by government supporters in exchange for a box of food.
"[The government] is so terrified that they're handing out food, preparing events for Sunday and, to keep people from voting, they're taking away their IDs so they don't have them that day," said Capriles. "They have no shame, how they play with people's hunger."
Following opposition leaders' call for a plebiscite on July 16, Maduro's government refuted by calling for a vote rehearsal of the Constituent Assembly on the same day. Never in the history of Venezuela has a government called for an election rehearsal. Many experts and politicians consider this move as an effort to fuel violence between government and opposition supporters this Sunday.
Plebiscite seeks to determine if people are against Maduro's Constituent Assembly
Venezuelans have more than 100 days protesting against the government, amidst a crisis that has thousands of people eating from the garbage, struggling to find food and medicines on a daily basis, or fearing being robbed, kidnapped, or killed, due to the nation's extremely high crime rates. Analysts estimate that millions of people have left the country in the government's 18-year rule.
Many people see tomorrow's plebiscite as the last chance to raise their voices against Maduro. The plebiscite consists in a three-question survey in which people can vote either yes or no. The questions are: 1) Do you refuse the attempt by the current government to change the constitution without proper public consultation? 2) Do you demand the military and public institutions honor the Venezuelan constitution?, and 3) Do you support the start of a transparent electoral process to re-legitimize and re-establish constitutional and democratic order in Venezuela?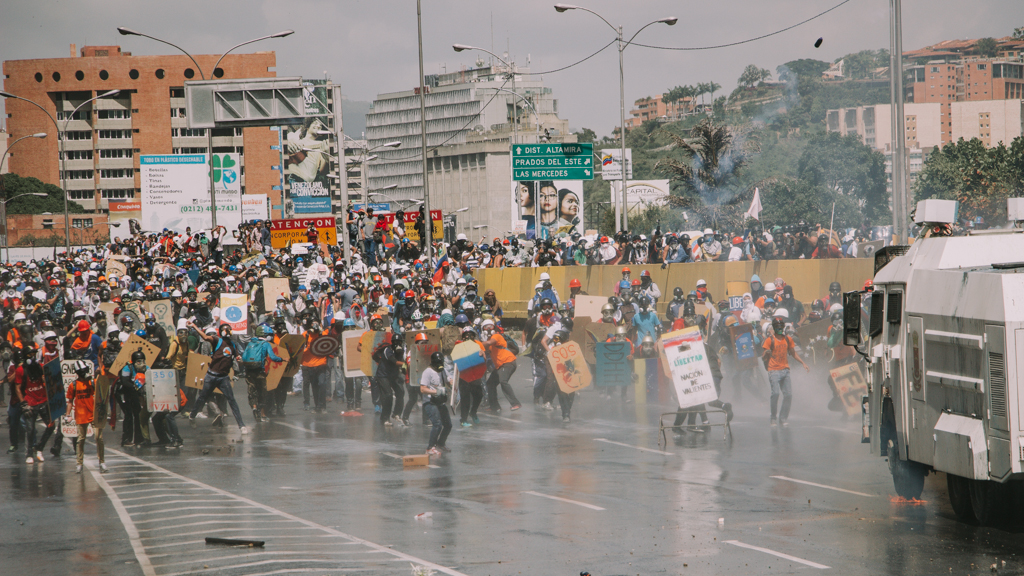 Every Venezuelan of legal age can cast a vote, only by presenting their ID. In some parts of the world, where it already is July 16, Venezuelans have been casting their vote. Pictures shared on social media show people in places as far as Kuwait, Saudi Arabia, and Oman.
Coincidently, social media is the only platform in which people will be able to see information about the plebiscite, as the government has also threatened to shut down any TV or radio news broadcaster that even mutters the phrase "popular consultation," according to extra official information.
Former Latin American presidents arrive in Venezuela to supervise opposition plebiscite
The United Nations called yesterday for Maduro's government to let people take part in the vote and to ensure security forces do not use excessive forces against voters.
"We urge authorities to respect the wishes of those who want to participate in this consultation and to guarantee people's rights to freedom of expression, association, and peaceful assembly," said UN human rights spokeswoman Liz Throssell, according to Reuters.
Over 100 people have died, and more than 1,500 people have been injured since opposition protests began in April. Both international and Venezuelan powers have called for security forces to stop the harsh repression against demonstrators. Video footage has shown how these government-backed forces have injured, robbed, and even killed protesters.
On Friday, a video posted on social media showed how security forces savagely beat a young continually in Lecherias, a Venezuelan city that has seen countless opposition demonstrations. It was reported the young man has Asperger syndrome, and that he's severely injured and fighting for his life.
These types of videos have become "regular" during the last months of anti-government unrest, as opposition demonstrators –described as "terrorists" by Maduro and government supporters- are constantly repressed whenever opposition rallies or demonstrations are carried out.
Today, a body of international ex-presidents arrived in Venezuela to make sure the plebiscite is carried out peacefully. Former presidents Laura Chinchilla (Costa Rica), Vicente Fox (Mexico), Andrés Pastrana (Colombia), Jorge Quiroga (Bolivia), and Miguel Rodríguez (Costa Rica), were greeted by opposition leader María Corina Machado.
"We're going to Venezuela to accompany its victims' grief and the courage of its people, who call for a popular consultation to save their freedom," tweeted Colombia ex-president Pastrana before arriving in the country.
Source: Reuters