Venezuela opposition protesters marched Thursday and were met by security entities such as The Bolivarian National Guard, which repressed demonstrators at several points of Caracas with tear gas.
The protests were sparked by Supreme Court's decision last week to dissolve the Congress in Venezuela, which is controlled by opposition politicians. The decision caused protests in the country and among the international community. Although the decision was quickly overturned by the Supreme Court, which is controlled by pro-government justices, the opposition has protested around the country, claiming for the destitution of the Supreme Court justices.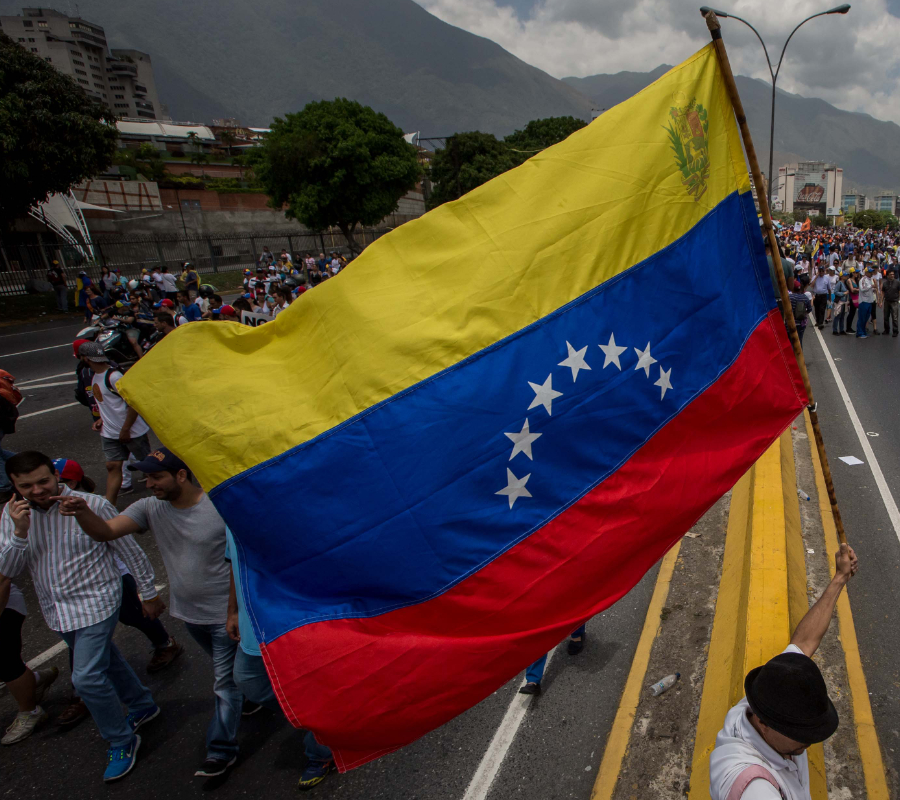 "This is a pivotal moment for Venezuela's future," said Jose Miguel Rodriguez, a student marching in Caracas, according to Reuters. "I see more bravery in the streets. People are more determined. We have to make more sacrifices. It's time to defend democracy and freedom."
The opposition was met by armed forces with tear gas
Thousands of people gathered to block a main highway in Caracas when they were met by the Bolivarian National Guard, which threw tear gas at protesters. Masked opposition youths met the security forces by throwing stones back at them. In other cities of the country, protesters also gathered to protest against the government.
A pro-government concentration also gathered in Caracas this Thursday. Diosdado Cabello, a pro-government Congressman and key figure in the government, said to reporters that not even if blood is spilled in Venezuela there will be a government change. He stated that the "change" already started 18 years ago with Hugo Chavez and that they will remain in power.
Freddy Bernal, a Socialist Party official said that Henrique Capriles, an opposition leader, is trying to ignite the country, stating that Capriles is looking for deaths. Bernal added that Capriles can't say later as a "sissy" that he's a political prisoner when he's persecuted by his remarks.
The National Assembly has begun the process to remove judges from the Supreme Court
On Wednesday, the National Assembly (Venezuela's Congress) began a process to remove socialist judges on the constitutional branch of the Supreme Court. The opposition majority in the National Assembly also confirmed a declaration that Venezuela is suffering a coup and they demanded the release of political prisoners.
Opposition lawmaker Henry Ramos Allup said that armed forces in Venezuela must choose if they want to be custodians of the constitution or if they want to remain acting as the "bodyguards" of President Nicolás Maduro.
The National Assembly officially accused the Supreme Court of carrying out Maduro's plans over the past months to seize more power.
Opposition lawmakers want to remove some Supreme Court judges who were appointed by Maduro's government. The appointments were carried after the opposition majority won the National Assembly in 2015, and ever since their appointment the judges have been passing laws to reduce the Assembly's power and to block their legislations.
"What you're seeing here today is basically a group of Venezuelans who are resisting a coup d'etat," said National Assembly President Julio Borges during Wednesday's session. "The coup d'etat in Venezuela continues, getting worse and deeper every day."
US military top official for Latin America warns Senate about Venezuela's instability
Admiral Kurt W. Tidd, the U.S Southern Commander, presented a report this Thursday to the Senate Armed Services Committee, warning that Venezuela might be a destabilizing factor in Latin America.
"Venezuela faces significant instability in the coming year due to widespread food and medicine shortages; continued political uncertainty; and a worsening economic situation," said Tidd.
He noted that the growing crisis in Venezuela could at some point compel a regional response. The United States Southern Command (USSOUTHCOM) is a command of more than 1200 military and civilians representing the U.S. Army, Navy, Air Force, Marine Corps and other federal agencies.
Tidd also said that Russia's, China's and Iran's presence in Venezuela and other Latin American countries could pose a threat to U.S. interests.
Tension in Venezuela keeps rising
Venezuela is currently suffering from inflation, shortages of food and medicines, and one of the highest crime and murder rates in the world.
President Nicolás Maduro has blamed the crisis in Venezuela to a U.S.-backed business elite who are allegedly affecting Venezuela's economy by fomenting a coup to impose a right-wing and imperialist government.
Meanwhile, the opposition continues to take their protest to the streets, and they are constantly persecuted by armed forces. On Tuesday, following one of the opposition protests from this week, 20 people were injured and 18 were arrested, according to the Caracas Penal Forum.
Lawmaker Juan Requesens, who was attacked earlier this week by alleged pro-government gang members, said that the government can do whatever they want but the Venezuelans will continue to make their voices heard on the streets.
Source: Reuters