15-year-old Anthony Borges was shot five times during the massive shooting that was held last week at the Florida High School. Classmates explained that the teenager used his body as a human shield to protect them from bullets, as he stood in the doorway while trying to lock the classroom's door.
Broward County Sheriff's Office wrote on Facebook that Anthony is, fortunately, recovering, although he has a long road ahead that includes further surgeries. Police officers visited Anthony on Sunday. He was in bed, injured, tied to IV and oxygen tubes, with his face still swollen.
On Sunday, four patients injured during the shooting remained hospitalized. Doctors hope they can adequately recover without any trouble.
A hero and a victim
Carlos Rodriguez, a student, and friend of Anthony claimed that the 15-year-old boy saved his life. Rodriguez described how every single one of the other students rushed to hide inside the classroom, except for Anthony, who was the last one to go inside the room. Unfortunately, he was shot when he tried to lock the door.
Carlos then said that thanks to Anthony, nobody else was injured.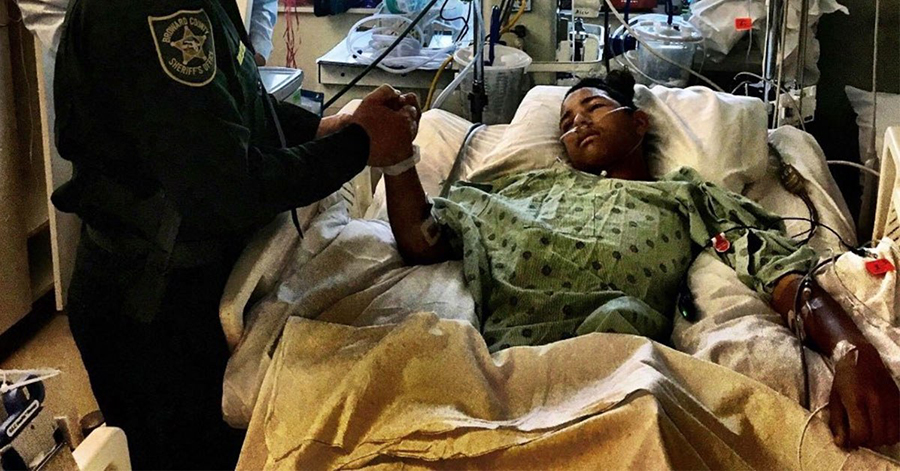 As Carlos explained, he wasn't the only one who didn't know what to do at the moment of the shooting. He said that was a complicated and tragic situation, but the only one who could react was Anthony.
Royer Borges, Anthony's father, explained to ABC News that his son called him shortly after the tragedy and that he told him all about the attack. Anthony said to his father that he was sorry somebody had shot him in the back and his leg. In front of this, Mr. Borge only told him he was his hero.
Now, the family is being supported by several donors that fund Anthony's GoFundMe Campaign, which aims to cover the surgeries and other financial expenses.
Time to act
Attorney General Jeff Sessions ordered a further investigation of the shooter Nikolas Cruz. He found something similar to an alleged YouTube video released by the shooter.
A 15-year-old teen residing in Lauderhill, a South Florida community, posted a killing-threat on Instagram that targeted people from a large amount of Broward County Schools.
The teen was detained and now faces a count of sending a written threat to kill, which is considered a felony. The teen claimed it was a joke supposed to scare a cousin.
The Florida students are facing a traumatizing recovery from the event, and most of the ones who were victims of the shooting are rising their voices to create awareness of the seriousness of the situation.
Not only anti-gun-laws are being demanded but also understanding from careless Americans.
"Here's a time to talk about gun control: March 24. My message for the people in office is: You're either with us or against us. We are losing our lives while the adults are playing around," said  Stoneman Douglas junior Cameron Kasky.
Source: ABC News