The Sickle Cell Day was celebrated last Sunday in an attempt of the International community, including the World Health Organization and UNESCO, to educate people about this incurable disease. This condition means that fewer blood cells reach certain areas, causing tissue and organ damage to the brain, heart, kidneys, liver, spleen, and bones.
Sickle cell disease is a type of anemia that affects red blood cells that that carry oxygen to the blood. A healthy red blood cell, or hemoglobin, has a flat rounded shape, and its flexibility makes it able to get through blood vessels, which will distribute the blood with oxygen through the body.  When a person has sickle cell disease, the red blood cells are similar to a crescent moon and become less flexible, causing clotting in the blood vessels. The disease got its name because red blood cells are sickle-shaped, which means crescent shaped.
The president of the Sickle Cell Disease Association of America, Sonja Banks, says that over 6 million people in the world suffer from one of the several types of sickle cells disease. In the U.S., the number of cases is between  80 thousand and 100 thousand. According to Dr. Ann Mellott, an Hematologist and Oncologist with UCHealth Memorial, sickle cell is the most common inherited blood disease in the United States.
Many of the affected by this affection can experience multiple painful vaso-occlusive crises per year which resulted in more than 75 thousand hospitalizations every year, only in the U.S.
Life expectancy is reduced when a person carries the disease. For women, life expectancy is 48 years and for males is 42 years.
In adults, or young adults, the symptoms are bone pain, fatigue and in some cases, the person could feel chest pain or problems to breathe. It also causes pain in the abdomen and organ damage to most vital organs.
KOAA 5 reports that there is one drug used to treat the symptoms, a chemotherapy agent called hydroxyurea. The medication relieves pain symptoms, decreases the frequency of the crises and the chances of a longer life expectancy grows.
Blood transfusions are an option as well because the donor's blood can replace some bad red blood cells with healthy ones. With babies, penicillin is used, but both treatments only help with the pain.
It seems that one possibility to fight Sickle Cell disease is a bone transplant, but this procedure is reserved for young children with the condition. Though, the bone transplant is not a guarantee to cure the affection, because only 1 in 10 children manages to find an appropriate donor.
Currently, there is not a universal cure for the genetic blood disease. Researchers are still looking for a permanent solution, and they are using stem cells, the Cameroon Concord says.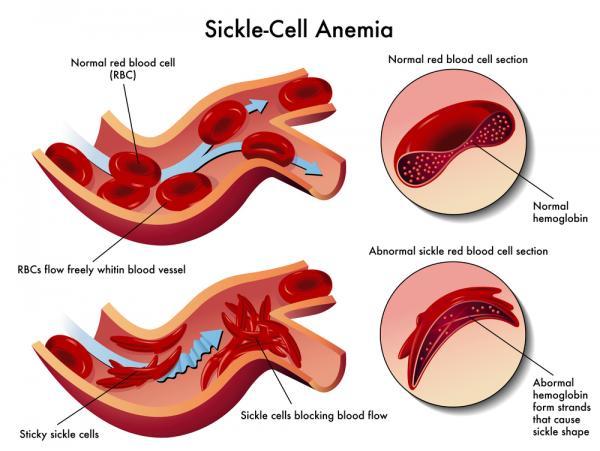 Pfizer Sickle Cell disease clinical trials need Black people to participate more.
The most affected by the disease are African descendants. Sickle cell disease is common in sub-Saharan African countries, but other populations are at risk as well. Hispanics, Asian descendants, Southern Europeans, and Mediterraneans are vulnerable to the genetic blood affection.
The Center for Disease Control says that 1 out of 365 Blacks in the United States has sickle cell disease and 1 in 13 Blacks are born with the genetic disease.
According to Sonja Banks and Dr. Freda Lewis-Hall, Pfizer's Chief Medical Officer, the reason behind the lack of a cure for this type of anemia is that African Americans do not participate enough in clinical trials.
African Americans are reluctant, skeptical and sometimes afraid to be part if clinical trials due to distrust of the medical and pharmaceutical field, a fear based on the Tuskegee Syphilis Study, says the Pfizer's vice president of global medical affairs, Dr. Kevin Williams, who is also a participant in the trials.
The Tuskegee Syphilis Study was an infamous clinical study conducted by the U.S. Public Health Service that studied the natural progression of syphilis in African-American men without their consent. They told them that they were receiving free health care from the government. The study was held mostly in rural areas during 60 years, between 1932 and 1972.
It is understandable why Black people avoid clinical trials, but third-party experts and they highly regulate nowadays these trials are impossible to be carried out without and informed consent.
Pfizer is working in clinical trials to find a cure to sickle cell disease. They obtain positive results from Phase 2,  and now the trials have successfully reached Phase 3. The pharmaceutical lab needs 350 participants in the next two years to continue the research.
According to Dr. Lewis-Hall is unlikely that Pfizer does not carry what is left of the study and that if the trials do not find a cure because of lack of participation, it would be a shame because it takes nearly 15 years to start a new drug trial. The Louisiana Weekly reports.
It is important to know if people are carrying the sickle cell disease, or not, to help people that have it and to create awareness around the world.
Source: KOOA 5