Orlando – Seaworld Entertainment (NYSE: SEAS) saw its second quarter profits fall by 84 percent. The company's report, released on Thursday, shows 2Q net income collapsing from $37.4m in 2014 to $5.8m in 2015, besides revenue fell from $405m to $392m. However, the theme parks company also maintained its annual outlook and its shares rose 4 percent adding 74 cents to close at $18.14.
Since the 'Blackfish' documentary, that suggested this kind of entertainment activities have negative consequences on orcas, attendance to Seaworld theme parks decreased 2%, which means they received 100,000 fewer visitors compared to 2014. The confinement this animals undergo by being captive may cause the animal's violent behaviors, and animal activists have made it difficult for the company to clean their reputation.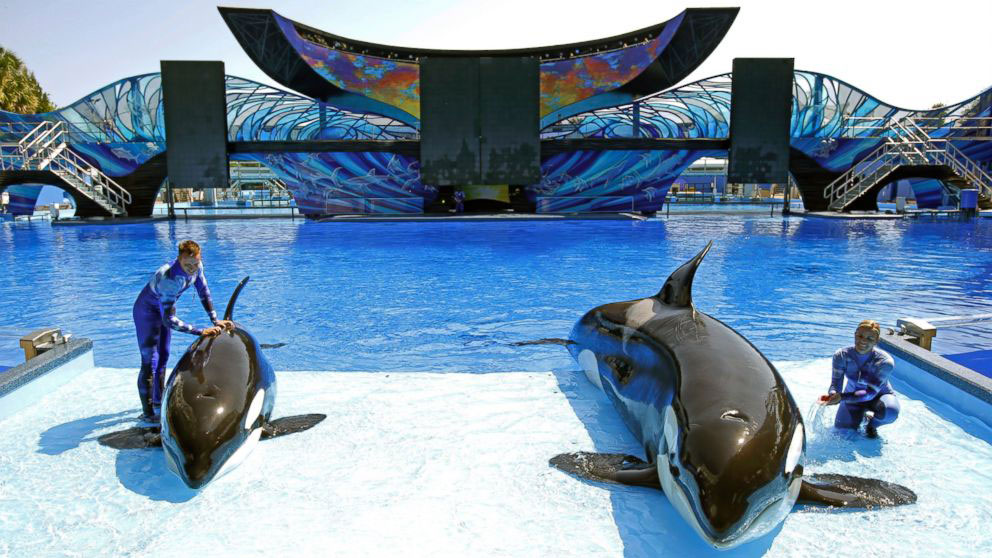 Training dolphins and killer whales to perform tricks in front of stadiums full of spectators is the main activities that these parks perform, and this has led the company to experience continued  "brand challenges", as they name it. Since 2013 three people were killed by orcas, and evidence has been established that captive whales die at younger age than their wild partners. These facts add up to hurting results for Seaworld, as it lost half of its market value on Wall Street and former CEO was forced out.
Seaworld Entertainment have a diversified portfolio of 11 destinations in key markets across the United States. The original park in San Diego is suffering the attendance issue the most. However, in Florida attractions the business was better in the second quarter. Nonetheless, problems there are a result of heavy competition from other theme parks in the region, according to CEO Joel Manby who recognized that those competitors have done a better job building exciting attractions. Manby also clarified that "attendance declined due to the timing of Easter, record levels of rainfall in Texas and continued brand challenges in California.  These factors were partially offset by improved demand in our other park locations, including Florida," he said
Reports from Comcast Corp. about its Universal theme parks revenues shows a 26 percent rise in the second quarter. Assigning the succes to  "The Wizarding World of Harry Potter – Diagon Alley" in Orlando. As for The Themed Entertainment Association and The Walt Disney Co theme park attendance improved in the latest quarter. A whole different situation than SeaWorld's reality.
Altogether, financial performance for Seaworld has not been good this year. Zacks Investment Research says analysts expected net income of 40 cents per share and $397 million in revenue. However adjusted earnings per share were 22 cents, down from 43 cents last year, clearly falling short from market expectations. But investors seemed calmed by executive's comments on performance.
"We acknowledge we still have much work ahead of us," Chief Executive Officer Joel Manby told analysts. "Let me assure you that we remain steadfast in our efforts to overcome these challenges and improve the performance of the company."
In contrast, SeaWorld have two strategies to revamp its image and appeal to customers, given that the industry has just sort of changed. They scheduled for 2016 the opening of a shark-themed roller coaster at SeaWorld Orlando and an Egypt-themed coaster at Busch Gardens Tampa. Moreover, they said about a year ago that they will build a tank with 10 million gallons of water. The first such tank is scheduled to open in San Diego to the public in 2018.
The latter project is called "Blue World Project" and it received negative criticism from a site called SeaWorldofHurt, saying that this kind of moves are 'marketing ploys'. There are other sites fiercely criticizing and denouncing SeaWorld Entertainment practices and activities. Animal Defenders International and TheDodo are some of the sites challenging the theme park company's image.
However, SeaWorld have defenders for itself. In an article published by FastCompany, the author John Paul Titlow, said that the company is spending $10 million in marketing campaigns to make the customers forget about 'Blackfish' and all the bad reputation it brought over captive orcas in parks facilities. This is the second strategy they are implementing to fight back against declining attendance, negative headlines, celebrity criticism, and pervasive social media trolling.
"There is a lot of misinformation out there," says Jill Kermes, senior corporate affairs officer at SeaWorld. "What we wanted with this campaign was to start that conversation with consumers and give them a place to go to get the facts about SeaWorld, about our animals, about our world-class animal care, and let them make up their own minds. We're constantly thinking of new ways to engage and new ways to tell our story."
Source: PR Newswire