Washington – A team of researchers have developed an insect-sized robot who can launch itself from the surface of water successfully replicating biological movement in an artificial system.
The scientists from Seoul National University, Harvard's Wyss Institute for Biologically Inspired Engineering, and the Harvard John A Paulson School of Engineering and Applied Sciences, have been studying water striders,  bugs which with seemingly no effort or cognition, jump and dart across the surface of still water with grace and speed.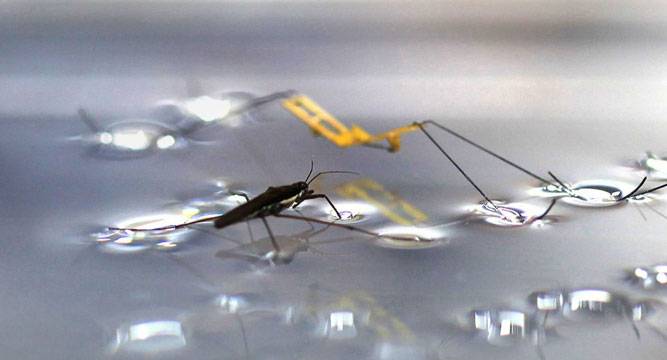 The mechanism involves rotating the curve tips of their legs inward a relatively low descending velocity with a force just below what is required to break the tension of the water surface. This ability puzzled scientist the most to the extent they push for deeper analysis of this locomotion mechanism.
"Water's surface needs to be pressed at the right speed for an adequate amount of time, up to a certain depth, in order to achieve jumping," said the study's co–senior author Kyu Jin Cho, Associate Professor in the Department of Mechanical and Aerospace Engineering and Director of the Biorobotics Laboratory at Seoul National University. "The water strider is capable of doing all these things flawlessly."
Ho-Young Kim, a former Wyss Institute Visiting Scholar, worked with the study's co-first author Eunjin Yang, a graduate researcher at SNU's Micro Fluid Mechanics lab, to collect water striders and take extensive videos of their movements to analyze the mechanics that enable the insects to skim on and jump off water's surface.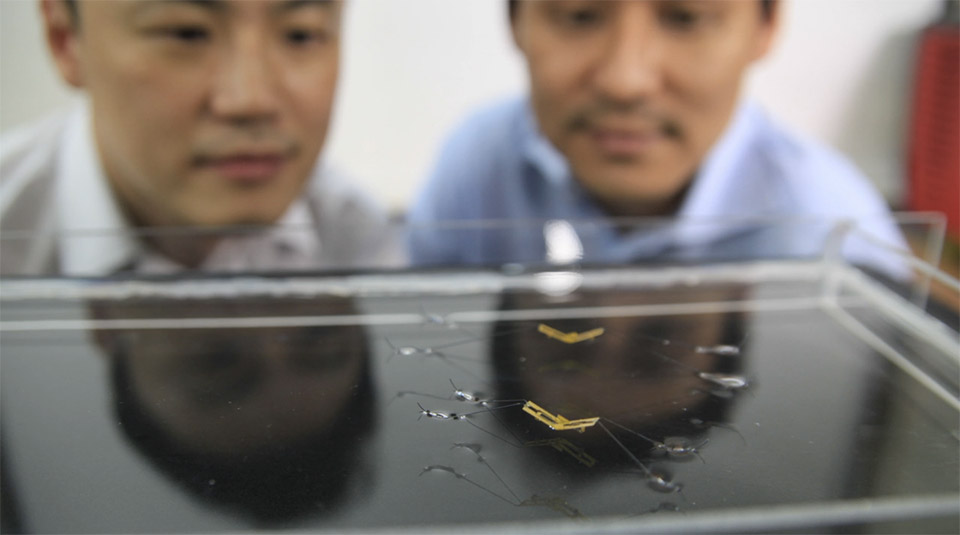 It was best to study water striders in comparison to iterative prototypes of their robotic insect. This led the team to discover that the best way to jump off of water is to maintain leg contact on the water for as long as possible during the jump motion. The robotic insect built by the team can exert up to 16 times its own body weight on the water's surface without breaking through, and can do so without complicated controls.
"The resulting robotic insects can achieve the same momentum and height that could be generated during a rapid jump on firm ground – but instead can do so on water – by spreading out the jumping thrust over a longer amount of time and in sustaining prolonged contact with the water's surface," said Wood.
Source: Sciencemag