Washington – More than three decades after biologists discovered and identified a then-new species of Nautilus in Papua Guinea, Peter Ward and his colleagues were able to see it once again. The professor from the University of Washington returned from the South Pacific claiming he reunited with what he considers "one of the world's rarest animals".
The creature named Allonautilus scrobiculatus, is a rare species of nautilus that Ward and a colleague previously discovered off of Ndrova Island in Papua New Guinea in 1984.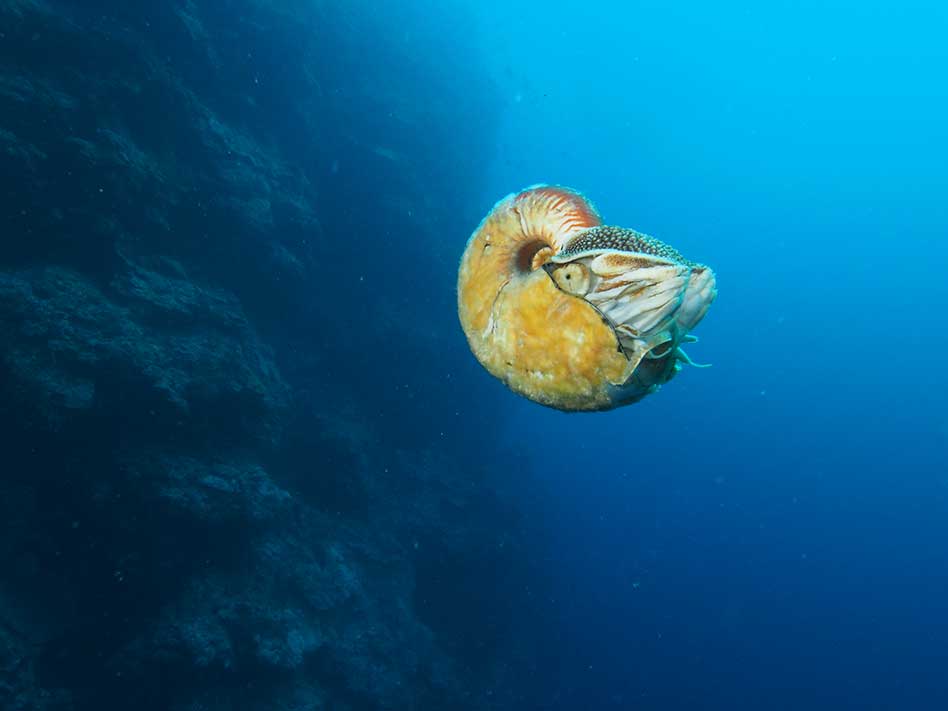 Nautiluses are small, distant cousins of squid and cuttlefish. They are an ancient lineage of animal, often called "living fossil" because their characteristic shells appear in the fossil record over a 500 million year period.
However, the Allonautilus disappeared until July 2015, when Ward returned to Papua New Guinea aiming to find once again nautilus populations. Since these creatures are expert scavengers, Ward and his colleagues set up "bait on a stick" systems each evening. They placed fish and chicken meat on a pole between 500 and 1,300 feet below surface. In order to spot a nautilus, they filmed activity around the bait for 12 hours.
The surprise came when watching a footage from one night, an Allonautilus approached the bait. This was the first time Ward saw the animal after 31 years. The video also showed how the creature was joined by another nautilus, and the two battled for the bait until a sunfish appeared on the scene.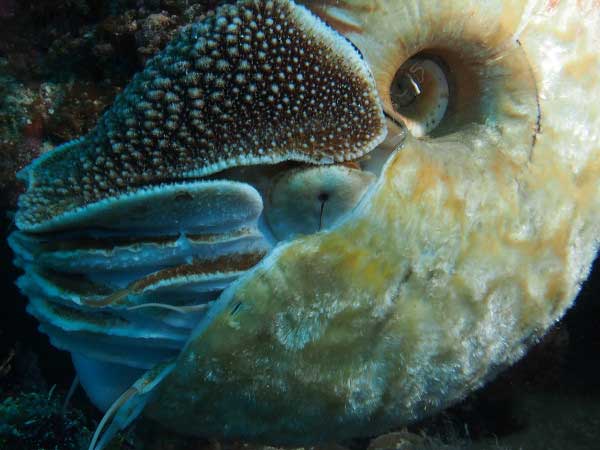 Additionally, biologists used baited traps in order to capture nautiluses at a depth of 600 feet. This was to obtain small tissue, shell, mucous and other samples to study the rare creature. The team later released the animals back to their habitats. The samples were used to determine the age and sex of each animal, as well as the diversity of nautilus population in the South Pacific. Scientists found that most nautilus populations live isolated from one another because they can only live on a very specific range of ocean depth.
"They swim just above the bottom of wherever they are. Just like submarines, they have 'fail depths' where they'll die if they go too deep, and surface waters are so warm that they usually can't go up there. Water about 2,600 feet deep is going to isolate them, " Ward explained.
According to the research, illegal fishing and "mining" operations for nautilus shells have already decreased significantly several populations. "This unchecked practice could threaten a lineage that has been around longer than the dinosaurs were and survived the two largest mass extinctions in Earth's history."
In September, the US Fish and Wildlife Service are expected to determine whether to advocate for nautiluses to become protected species under the Convention on International Trade in Endangered Species of Wildlife Fauna and Flora (CITES).
Nonetheless, the reunion has made Ward to state that many more studies must be made in order to better understand the animal. "It's only near this tiny island," said Ward. "This could be the rarest animal in the world. We need to know if Allonautilus is anywhere else, and we won't know until we go out there and look."
Source: University of Washington