A new study found online searches related to suicide increased considerably following Netflix's release of the show "13 Reasons Why," a series about a teen girl who commits suicide.
The 13-episode show was released all at once in March and details the 13 reasons why 17-year-old Hannah Baker decides to take her own life. The show is based on a novel by Jay Asher.
In the last episode of the series, Hannah is seen committing suicide in a 3-minute long scene, which some critics have deemed too graphic. Now, a group of U.S. researchers found the show has sparked too much interest in suicide, particularly among teenagers.
Internet searches like 'how to commit suicide' sparked after 13 Reasons Why debut
In April, the popular series set a record for the most-tweeted-about show this year, as it was mentioned over 11 million times within three weeks of its March 31 release. In the new study, published Monday in JAMA Internal Medicine, researchers said that during the same three weeks, internet searchers about suicide rose at unexpected levels.
"Our analyses suggest 13 Reasons Why, in its present form, has both increased suicidal awareness while unintentionally increasing suicidal ideation," wrote the authors of the paper. "The most rising queries focused on suicidal ideation. For instance, 'how to commit suicide', 'commit suicide' and 'how to kill yourself' were all significantly higher."
John Ayers, the lead author of the study and professor of health at San Diego State University in California, noted the more someone contemplates suicide, the more likely they are to act, and warned that searches often foreshadow offline behaviors.
Suicide-related internet searchers were 19 percent higher in the 19 days following the show's debut, which translated into 900,000 to 1.5 million more searches than expected, said the authors. Searches for "how to commit suicide" increased 26 percent more than expected, searches for "commit suicide" were 18 percent higher, while 'how to kill yourself' searches sparked 9 percent.
However, the authors noted that searches seeking help also increased. For instance, searches for "suicide hotline number" were 21 percent higher than anticipated, while queries for 'suicide prevention' increased 23 percent more than expected.
Netflix's call too graphically depict suicide is 'controversial'
Ayers decided to investigate the subject following the show's release when a debate began among its creators and educators and mental health professionals about its potential damage to children and teenagers.
Ayers told Chicago Tribune that other studies have validated that Internet queries mirror real-world suicide rates, so these rates were likely to have increased as a result of the program. He noted that as a data-driven public health scientist, he saw that troubling data as a strong call to action, adding that "the show must be taken down."
Netflix did include warnings in its three most graphic episodes and provided suicide prevention websites and a hotline. The company also encouraged parents to watch the series with their teens and offered some talking points.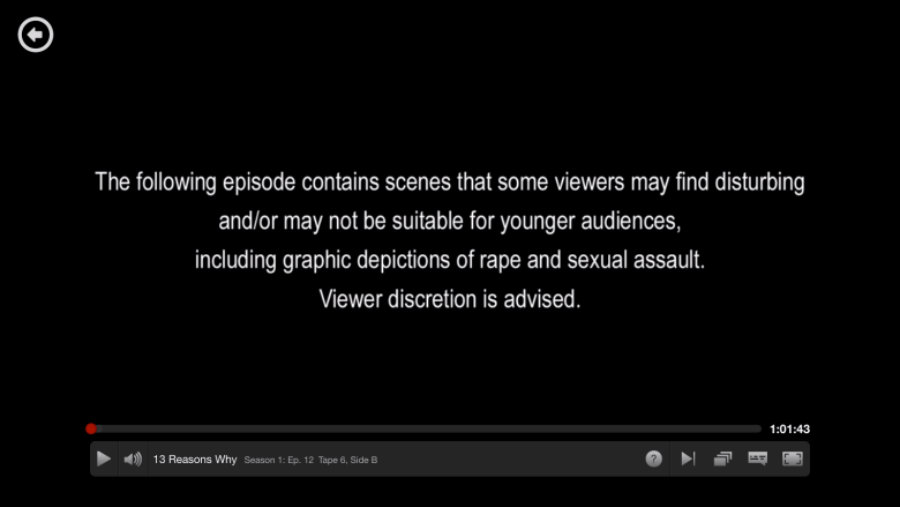 "We always believed this show would increase discussion around this tough subject matter," replied Netflix in a statement. "This is an interesting quasi-experimental study that confirms this. We are looking forward to more research and taking everything we learn to heart as we prepare for Season 2."
However, some experts believe Netflix could have done more to avoid triggering suicidal thoughts. Kimberly O'Brien, the co-author of an accompanying editorial of the study and psychiatric researcher at Harvard Medical School, told Reuters Netflix's choice to graphically depict the suicide of the star of the series was a "controversial decision." She noted that research has shown that graphic pictures or detailed descriptions of a person committing suicide can be a factor in vulnerable individuals.
Authors: Show should remove the scenes showing suicide
Recently, Palm Beach County Schools Superintendent Robert M. Avossa wrote a letter to parents saying school district personnel had been observing an increase in youth at-risk behavior in elementary and middle schools, including self-mutilation, threats of suicide, and several Baker Act incidents.
The Baker Act is a legislation that allows the involuntary commitment of people who may have mental illness and who pose a danger to themselves of others. Avossa also said that students involved in most of those incidents had associated their at-risk behavior to the 13 Reasons Why Netflix Series.
Several mental health professionals have already reported treating Hannah-Baker copycats, who have articulated wanting to commit suicide just like she did on the show. O'Brien told Chicago Tribune she has personally seen some of those cases.
"I personally have seen multiple psychiatric admissions where the admission note details the fact that the teen said that they wanted to 'kill myself the way the girl in 13 Reasons Why did,'" said O'Brien. "This is extremely concerning because it is showing us, just like it has in research studies, that pictures or detailed descriptions of how and where a person died by suicide can be a factor in vulnerable individuals imitating the attempt."
Ayers and Brien concluded that the effects of the show could be mitigated, for instance by removing the scenes showing suicide.
Source: Chicago Tribune