Although the Islamic State of Iraq and the Levant (ISIL) has had a year without any successful military operation nor in Syria or Iraq, President Obama stated his concerns about the factors that gave birth to the extremist group.
He also referred to the fact that when it first started its attacks, the Islamic State appeared to be unbeatable, but the efforts of the several countries carrying out joint military operations against ISIL has steadily weakened its forces, leading the group to its imminent defeat. But this also means that more violent and sudden attacks can be expected.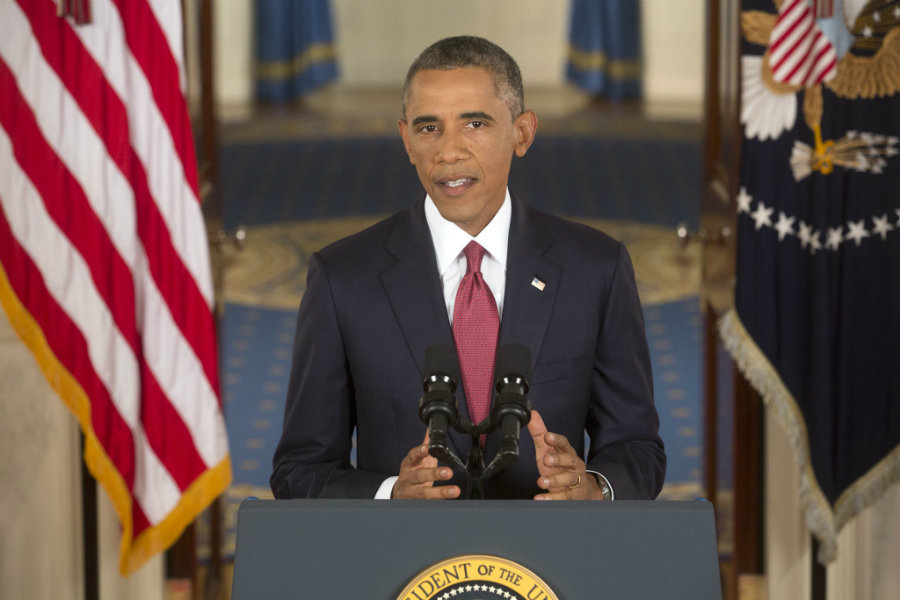 Boko Haram, another Islamic extremist group, located in Nigeria, resorted to using female suicide bombers as they were facing defeat on the battlefield. The case of ISIL is the same because they can easily convince people throughout the world to carry out attacks on places with a great affluence of individuals, making it harder for them to be stopped or brought to justice.
"So in some ways, rooting out these networks for smaller, less complicated attacks is tougher (…) but it does mean we have to do even more to generate the intelligence and to work with our partners in order to degrade those networks," stated President Obama at the National Security Council meeting at the Pentagon.
Since 2014, the U.S. has performed airstrikes on ISIL-held territories in Iraq and Syria. Last week, President Obama ordered attacks on Libya, where a civil war is also taking place, just like in Iraq and Syria. The next step is to recapture Mosul from ISIL, which was taken by the extremist group when they started military operations back in 2014.
But military prowess is not able to reduce ISIL's ability of perpetrating acts of terrorism. Through organization and the Internet, the extremist group can collaborate with cells from all over the world.
ISIL's attempts on attacking U.S. soil
Last Thursday, 35-year-old Erick Hendricks, of Charlotte, North Carolina, was arrested for providing support to terrorists with the objective of launching an attack on U.S. soil. He used social media to contact recruits, where one of them was an undercover FBI agent. Hendricks wanted to form a sleeper ISIL cell eventually to carry out an attack in Garland, Texas. Allegedly, he had been in contact with the gunmen accused of attacking a Texas art exhibit, where caricatures of the Prophet Muhammad were on display.
Hendricks is facing up to 15 years in prison and, according to authorities, he also had made contact with collaborators in Mexico.
Mugshot for Erick Hendricks, Charlotte man charged with trying to assist ISIS. Feds say he was plotting terror in US pic.twitter.com/310Lyv3wW4

— Bill Melugin (@BillFOX46) August 4, 2016
Hendrick's case occurred just one day after 36-year-old Nicholas Young was also accused of providing support to ISIL. A Washington D.C. Metro Transit Police officer, Young bought $245 in gift cards for the Islamic State, so they could buy mobile apps to communicate easier with collaborators. Just like in Hendrick's case, Young provided an undercover FBI agent with the material.
It was later discovered that Young had traveled to Libya and tried to join rebel forces as they opposed the rule of Moammar Gadhafi. In the trip, Young had bought body armor alongside other military paraphernalia.
Authorities were concerned about the fact that Young was a Metro official, which would allow him to perpetrate orchestrated acts of violence with multiple victims if he had not contacted an undercover FBI agent.
War is happening
Because the FBI managed to spot both Young and Hendricks, U.S. citizens should be assured that there is a threat actively being dealt with. Since the gunfights occur in the Middle East, there tends to be an inclination towards believing that it is just a foreign problem. The truth is that each day, ISIL is expected to resort to more terrorist attacks because of their lackluster performance on the battlefield.
Militarily, the group is not likely to make any more progress, as the cooperation from allied nations adds up to a sizable military force, capable of taking down a 'state' as it is. President Obama assures that ISIL's destruction is inevitable, as he has pledged to wage war against anything or anyone posing a threat to U.S. citizens, no matter where they are.
The U.S. has led a recent series of bombings in Libya, requested by the Government of National Accord, who has been trying to expel ISIL and regained control of Libya. On Iraq and Syria, almost half of ISIL's territory has been seized thanks to U.S and Russia-backed ground forces, while both world powers have different purposes and objectives. One of the key factors is that ISIL has not gained any new land, which is good news, as one of the most prized assets in any war is the territory.
"None of ISIL's leaders are safe, and we're going to keep going after them," stated the President of the United States.
ISIL's most notorious targets are touristic landmarks and common places, such as churches and social venues. But because a lone gunman can act on behalf of ISIL, such as in the case of the Orlando nightclub massacre, allied nations will have to find more binding solutions to the problem of global sleeper cells, capable of carrying out acts of terror on behalf of a radicalized set of beliefs.
Source: USA Today