BOSTON – The robot enthusiastic tech company MegaBots, just released a funding campaign to go through a combat with its only competitor, Suidobashi Heavy Industry of Japan. MegaBots challenged Kogoro Kurata last year to a "robot duel" and they accepted. The established conditions from the Japan Company were that the match had to be  a "melee combat", a fighting style involving non-projectile battle, particularly with fists or clubs. For this to happen MegaBots will have to adjust their robot since the Mark II (Mk. II) isn't prepared to go through a hand to hand, fist to fist combat.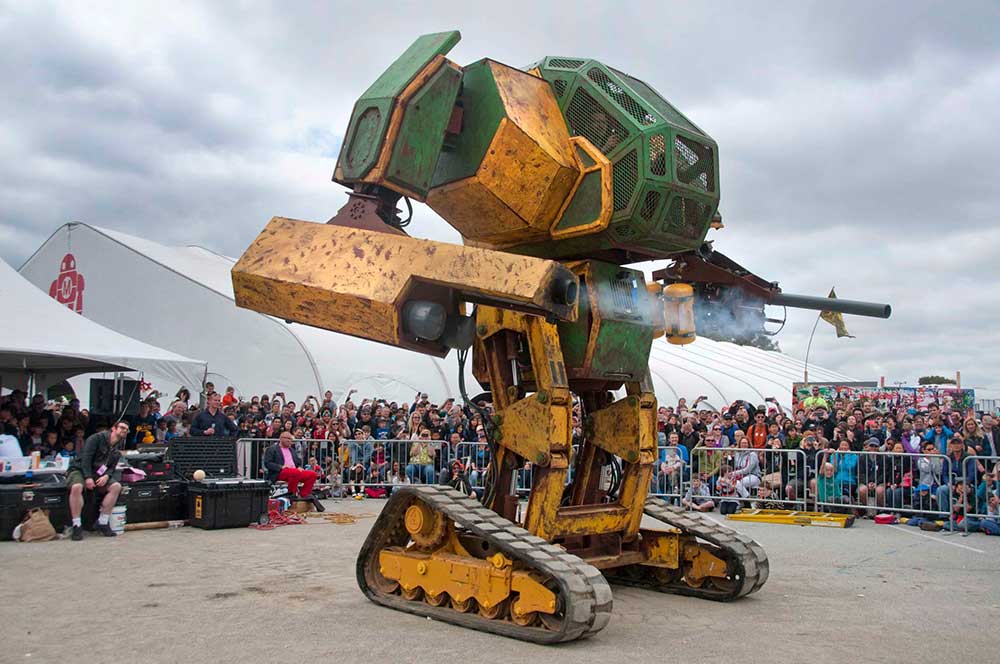 The fighting robot campaign is asking for donations from random people who enjoys these kinds of giant robots encounters. Kickstarter is the company managing the campaign. The bare minimum they need is $500,000 and additionally $1.5 million to have better improvements. The melee match requires changes on the Mk.II, from new enhancements on the feet which need to be more powerful and quicker to improve its balancing technology in order to have a better performance on the field. The first $500,000 raised through the Kickstarter campaign will go toward these arrangements.  
Moreover, the company have more visions. If they can raise $250,000 more, the Mk. II's weapons system will be updated and also other new features that will give the robot an american appearance. The robot's arm guns will be more impressive and patriotic with the addition of a boxing glove, a Statue of Liberty-esque torch and what appears to be a flamethrower.
But they won't stop there, if MegaBots can raise $1 million they will work with IHMC services, which is the organization that placed second in this year's DARPA Robotics Challenge, to have a whole new custom balance system for Mk.II. NASA will be working on those systems too if the company reaches $1.25 million. The space administration will design a pilot safety system since the robot is manually operated. It consists on keeping the person inside the machine safe throughout the battle. By last, if they raised $1.5 million, they're planning to hire a Hollywood design firm to give the robot a makeover. Recognized creatives groups will give the Mk.II a glamorous fighting machine appearance.
"This Kickstarter campaign is historic because it's the first time a new sport will be launched with the power of the crowd," Brinkley Warren MegaBots Co-Founder said in a statement. "People love giant robots!"
On the other hand, The Japanese team said they would come up with new melee weapon. MegaBots announce on a statement that both teams could do whatever is necessary to make their giant robots prepared to this exciting battle.
Donors can participate on MegaBot's website, donating a minimum of $5 dollars. So far nearly $50,000 has been raised.
MegaBoats challenged Japan to a duel with this video
And Japan Accepted
Source: MegaBots