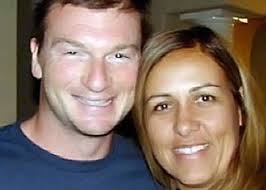 Bruce Beresford-Redman had it all, a beautiful wife, children, a lovely home, and an amazing job but he will now spend the next 12 years of his life in prison. He worked as a producer for the popular television series, Survivor, but while on vacation in 2010 in Cancun Mexico with his wife, something went terribly wrong.
According to a state prosecutor, it was during that vacation that Beresford-Redman murdered his wife. Reportedly, he and his wife Monica Burgo Beresford-Redman who was born in Brazil, were enjoying a vacation in Cancun along with their two children. His wife went missing, with her body eventually being found in the sewer cistern of the resort hotel where they were staying.
As stated by family members and close friends, the couple had been experiencing trouble in their marriage for some time. Beresford-Redman is reported to have cheated on his wife, which led to major discord. The primary reason for the vacation was to give the couple time to work on repairing the damage done to the marriage because of his affair.
Beresford-Redman returned to the US and continued to maintain his innocence but in 2011, his extradition was upheld by a US court. By 2012, he had been returned to Mexico where he was ordered to stand trial for the murder of his wife.
The possibility for prosecutors to appeal for an even longer prison sentence after analyzing the judge's decision was left open by Torres. As he stated, the goal was to get Beresford-Redman the longest prison term possible and in fact, he had asked the judge to consider up to 50 years for the crime of murder.
After listening to testimony and looking at evidence during the three-year process, Torres was confident Beresford-Redman would be found guilty as charged. After five long years since the murder, Judge Victor Manuel Echeverria Tun sentenced Beresford-Redman to 12 years, this according to Gaspar Armando Garcia Torres, Quintana Roo state prosecutor.
Immediately following Beresford-Redman's sentencing, the Burgo family issued a family statement through their attorney, Alison Triessl. They said that it has been close to five years since their sister was killed and that every day, they miss her. Although they know there is nothing that will bring her back to life, they finally feel she received deserved justice.
A statement was also released from Stephen Jaffe, spokesman for Beresford-Redman's attorneys in the United States saying their 43-year-old client would comment at a later time in regards to filing an appeal.