A forest fire in the Santa Clarita Valley grew up to 11,000 acres on Saturday. Some residences in the area remain alert to possible evacuations. The sky in the Los Angeles Basin is covered in scattered ash.
More than 300 firefighters have already contained 10 percent of the wildfire, said the Los Angeles County Fire Department said on Twitter. Extremely hot temperatures might impede their efforts. Temperatures would reach up to 106 degrees in some areas of the valley, as reported by the National Weather Service. The fire department has issued a red-flag alert, while it tries to control blazes of up to 35 mph.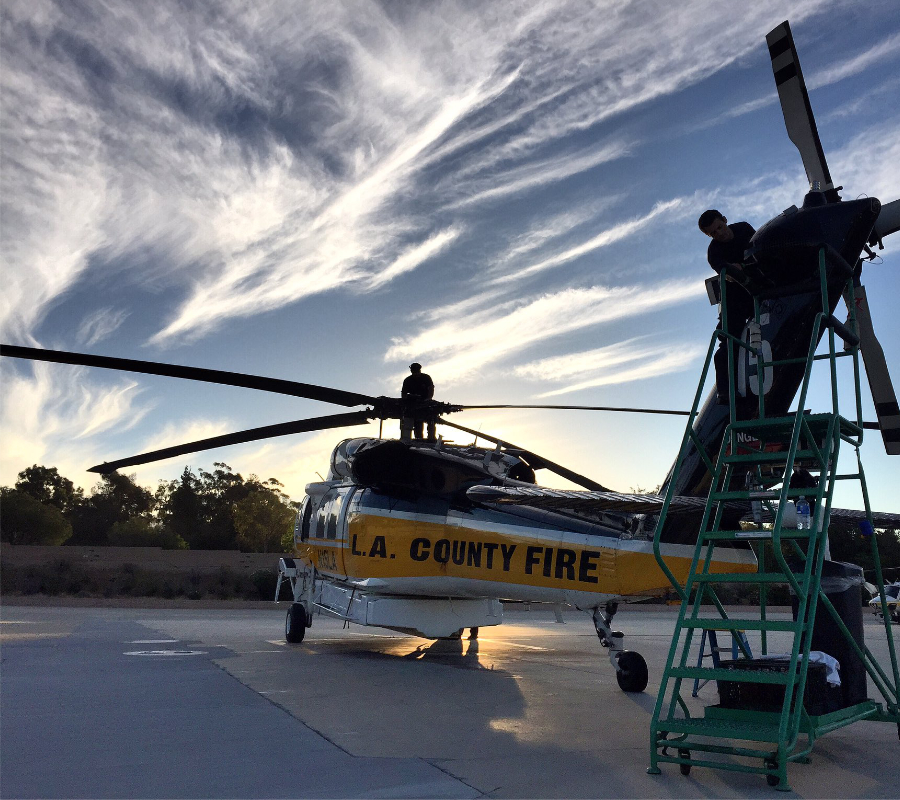 More than 300 people have been evacuated from affected areas, while more than 1,000 residences have been threatened, said the fire department in a statement. The sky in Los Angeles remains covered in ashes that could affect air quality and cause health issues.
The South Coast Air Quality Management District announced a smoke advisory on Saturday. The alert is expected to remain active until Sunday, according to Los Angeles Time. People should avoid outdoor activity that could increase respiration efforts, said the institution.
Children, elderly adults and people with respiratory problems such as asthma should remain indoors. People are also recommended to shut their windows, as a preventive measure to avoid exposition to ashes.
VIDEO: High temps, low humidity, & increased wind contributed to rapid fire growth yesterday on #SandFire pic.twitter.com/Kyt8y929yp

— LACoFireAirOps (@LACoFireAirOps) July 23, 2016
Brush fire near State Route 14: people had to evacuate recreational vehicles
A brush fire near State Route 14 caused people to evacuate 400 homes. Los Angeles County fire Inspector Joey Marron said the fire was not slowing down, according to the Associated Press. Firefighters also ordered people to evacuate a recreational vehicle park.
Kurtis Bell, a landlord at the River's End Recreational Vehicle Park, told KCAL-TV that some flames were up to 20 feet. He helped tenants to evacuate all vehicles in the affected area. The fire covered five square miles near the freeway.
Transportation agencies have taken preventive measures to prevent exposition to the wildfire. Metrolink stopped on Friday some train routes passing by the San Fernando and the Antelope valleys, said LA Times.
The California Highway Patrol has temporarily closed some lanes of the freeway. Ashes are already reaching places such as Pasadena. The National Weather service said that a heat wave would extend towards Southern California on Saturday night.
"I got all my tenants out of the RV park and for the people that weren't there and still have dogs, I broke into their trailers and got their dogs out. You could see the fire (on) the top of that mountain, the tops of all these mountains, 20 feet up in the air. It absolutely looked like the apocalypse," Bell told The Associated Press.
View of the #SandFire from my backyard pic.twitter.com/57jfkX5k09

— Mo Sab (@MoBawi24) July 23, 2016
Los Angeles County Fire Department: we are experiencing flames of up to 100 foot
Dennis Cross, battalion chief at the Los Angeles County Fire Department, said on Saturday that flames in the Santa Clarita Valley are between 50 and 100 foot tall. He described the 2016 fire season as tough, as reported by ABC News.
The Red Cross has settled an evacuation shelter at Golden Valley High School, 27051 Robert C. Lee Parkway, Santa Clarita, said ABC News. Another evacuation site is being opened at the Lake View Terrace Recreation Center, said Mayor Eric Garcetti on Twitter.
https://twitter.com/LACoFireAirOps/status/756867689470042112
Source: Los Angeles Times