Six women have claimed that Republican candidate Donald Trump sexually assaulted them and five former Miss Teen USA contestants denounced he used to enter their dressing rooms while they changed.
These accusations are being made just weeks before the presidential elections. During the whole campaign, Trump has been followed by constant allegations of misogyny.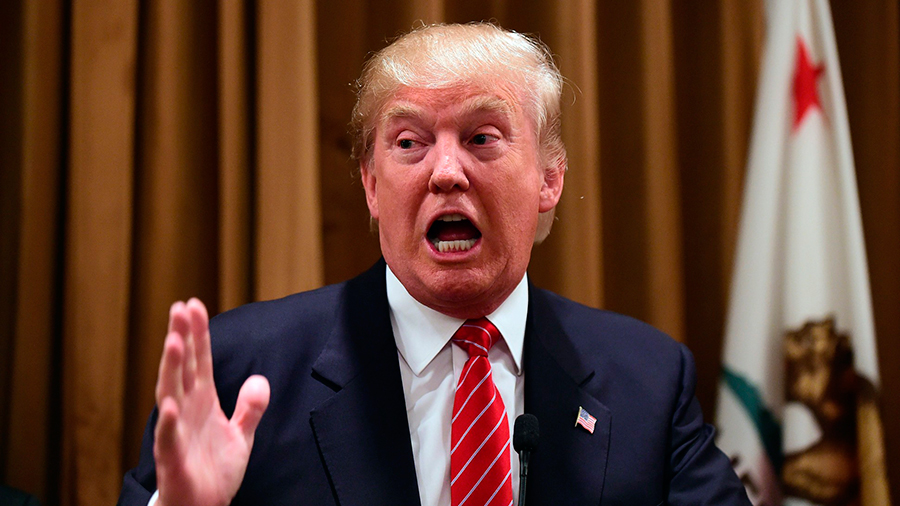 Denying the accusations
On Wednesday night, Trump's presidential campaign denied all new allegations, claiming the new outlets who posted them were guilty of "coordinated character assassination" to make Democratic candidate Hillary Clinton look better.
The Republican candidate's campaign has been trying to clean Trump's image after a video recorded eleven years old resurfaced on the internet. In the video, Trump brags about grabbing women's genitalia without their consent, claiming "when you're a star, they let you do it." Afterward, he stated that was the way men speak in "locker rooms" and that he was just lying about the assaults.
The new allegations
On Wednesday, Jessica Leeds said Trump grabbed her breasts and tried to slide his hand into her skirt while they sat next to each other in a first-class airline flight back in the eighties, according to The Times. Rachel Crooks also admitted to the journal that eleven years ago, Trump kissed her "directly on the mouth," outside an elevator in Trump Tower in New York City, where she worked as a receptionist.
Staff writer Natasha Stoynoff also denounced that in 2005 Trump pushed her against a wall and kissed her in the mouth without her consent, claiming it was "the Trump beat," at his resort Mar-a-Lago. According to Stoynoff, the Republican candidate was "fast" and took her "by surprise," which prevent her from defender herself as published by People Magazine.
"This never happened. There is no merit or veracity to this fictional story. Why wasn't this reported at the time? Mr. Trump was the biggest star on television, and surely this would have been a far bigger scoop for People magazine. She alleges this took place in a public space with people around. This is nothing by politically motivated fictional pile-on," stated a spokesperson of Trump.
Mariah Billado, Miss Teen Vermont 1997 along with other four unidentified contestants from the 1997 Miss Teen USA pageant and Tasha Dixon, former 2001 Miss Arizona also said Trump used to walk into their dressing rooms while they were naked. However, other eleven contestants "don't recall" seeing the businessman in the dressing room, as reported by Buzzfeed.
"These accusations have no merit and have already been disproven by many other individuals who were present. When you see questionable attacks like this magically put out there in the final month of a presidential campaign, you have to ask yourself what the political motivations really are and why the media is pushing it," stated Jessica Ditto, a spokeswoman for the Trump campaign.
Dixon however, shot back, saying that Trump only wanted to own the pageant to be around "beautiful women" and use his power and authority to abuse them. Back in May, Temple Taggart McDowell, former 1997 Miss Utah, also denounced he kissed her on the lips without her consent when she was competing in the pageant.
According to McDowell, her father "really admired" Trump, and once he had the opportunity introduced himself to the businessman, and then proceeded to introduce McDowell. During the presentation, Trump "embraced" her and kissed her on the lips, as confirmed during an interview with NBC News. McDowell also said she felt "grossed out" by this, but did not know how to act or respond at the time.
The Ivana case
Trump's first wife, Ivana Trump, claimed under oath that Trump raped her, as disclosed in a deposition from the couple's divorce back in 1990. The case was brought to light by the candidate's unauthorized biography, written by Harry Hurt III.
Hurt wrote that in 1989 Trump underwent scalp reduction surgery to fix a bald spot, using the same plastic surgeon that Mrs. Trump usually went to. However, the procedure was very painful, and one night, Trump assaulted Mrs. Trump, while screaming that "your f— doctor has ruined me!"
According to Hurt, Trump assaulted his wife, holding her arms while pulling out chunks of her hair. He then "tore off" her clothes and had sex with her, without her consent. Afterward, Mrs. Trump locked herself in another room and came back in the morning to the master bedroom.
A year later, during the divorce, Mrs. Trump referred to the incident in a court deposition, explicitly saying he had "violated" her. Nonetheless, she then backpedaled, claiming that she only felt "violated" because he did not act with "love and tenderness," but that she did not mean rape in the "literal or criminal" sense of the word.
Sources: NBC News