Shocked and in despair, Americans turn to the National Suicide Prevention Lifeline seeking for help after the surprising results of the presidential election last November 8. They called to express their disappointment and desolation about Trump's victory.
Between 1 and 2 a.m., there were around 660 calls registered. They were on a dramatic upsurge as the election results were firmer. The number of calls increased in a way that hasn't been seen in any other election.
"Clinically speaking, it was citizens expressing their fears and disappointment," explains psychiatrist Dr. Bindu.
An unprecedented event for the National Suicide Prevention Hotline
The number of people looking for help in crisis hotlines increased two to three times the usual rate as the results of the presidential elections were out. People were feeling uncertainty, desolation, and fear about how the next administration will be in the hands of the erratic Donald Trump.
Trump's victory alarmed a lot of people after a campaign that was full of messages against minorities, women, members of the LGBTQ community; these messages were not only deemed as offensive but also dangerous for these groups. Therefore it was normal to feel anxiety and fear about how Trump's policies could affect them in the next four years, including possible reductions in human and civil rights, health care coverage or even suffer a deportation.
They recommend to those who are going through this post-election feelings to reduce the time watching news related to the results and to limit connection to social media. However, it is important that they keep somewhat in touch with what's going on in the country.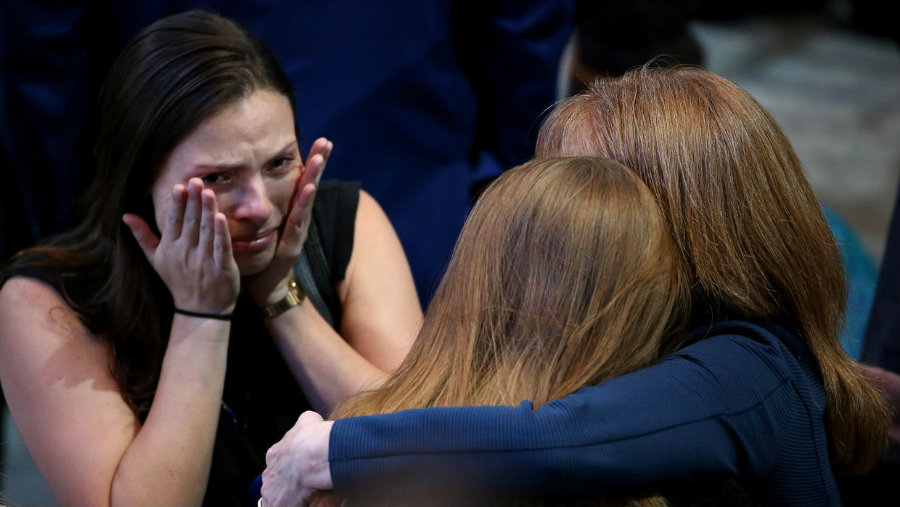 On the other hand, they also said that even though the calls were linked to the elections, these had something to do with previous experiences and issues.
"I can't say I've seen anything like this. … And it's certainly not something I've ever seen in an election," said John Draper. "They call and say it's the election. But by the end of the call, it's about their lives, and that's when we can help them."
The link of the calls with the elections is undeniable, according to Draper, he has never seen something like that in 25 years of work with suicide prevention centers.
Certainly, there was a rise in the calls rate after the 9/11 terrorist attacks. The next time such a surge was seen was after actor and comedian Robin William committed suicide back in 2014.
The National Suicide Prevention Lifeline includes a network of more than 160 crisis centers.
The Crisis Text-line and the Trevor Project
Alongside the National Lifeline, there were other channels for American to seek out for counseling such as the Crisis Text Line and the Trevor Project. The Crisis Text-line contacts texters to counselors. It was created in 2013. On an average day, they receive around 1000 texts. On Tuesday it saw around 2000 texts. But, during the wee hours of Wednesday, it saw eight times the standard rate of texts. Numbers like these only happened after Robin Williams' shocking suicide and after the terrorist attacks in Paris in 2015, when they receive a lot of self-identified Muslims who feared being treated poorly after these attacks.
As well,  the Trevor Project is a national program providing assistance and counseling to lesbian, gay, bisexual, transgender and questioning youth. They want to help the LGBTQ community by preventing crisis and suicide. They contacted approximately 54000 people in 2015. After the Tuesday elections, a lot of people from this community said they were scared about the upcoming events linked to Donald Trump. 95% of the people who contacted them this week wanted to talk about the elections, especially young people who had never called before.
"They're scared, and they don't know who to turn to. … Given all the rhetoric that they've heard leading up to the election, it makes sense that they're frightened", said Steve Mendelsohn, deputy executive director of Project Trevor.
It is important to consider that lesbian, gay and bisexual youth are statistically more likely to commit suicide that straight youth. The stats increase if they are transgender: 46% of Trans men (female to male) of all ages have tried to suicide; as well, 42% of Transgender women have done so, according to the American Foundation For Suicide Prevention. Among young transgender, at least half of them have admitted having considered at least once to end their lives.
How can you help someone going through a crisis?
If you know someone who might need help coping out with the election results or any other issue you can reach these counseling channels with the following numbers:
National Suicide Prevention Lifeline: 1-800-273-TALK (8255)
Trevor Lifeline: 1-866-488-7386
Crisis Text Line: Text "741741"
Furthermore, you can help them by talking and consoling them, be there for each other. You can also invite them to do something that you know could cheer them up. As well, limit their exposure to debate about the elections.
Source: CNN